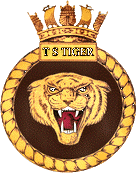 T.S. TIGER
Leicester Sea Cadets and Royal Marines Cadet Unit
in honour of my time there
1965-1972

This is a link to an organisation that gave me some of the best 7 years of my life.
Click the Tiger badge above to go to their site. But please read on first.

For any lad in his mid-teens, with nothing particular to do and seeking adventure and a wider interest in life, I can't recommend joining a cadet unit highly enough.

Sea Cadets or Marine Cadets, the adventure and fun and mates are the same. It's all part of our same Royal Navy, and it's all a question of preferences. I originally joined the Sea Cadets in 1965, but was quickly 'poached' by a Marine Colour Sergeant, and that was that. I stayed on as a sergeant-instructor till, aged 22, I and my wife left to go and live in Hull. I always intended to offer myself as an adult volunteer to the local Sea Cadet Unit in Hull, but shift patterns forbad, the chances passed, and to my regret, I never did.

The Royal Marines Cadet Unit, at TS Tiger in Ross Walk, Leicester, was the saving of me, and gave my life direction and focus at the time of a family break up in my mid-teens. I could have so easily 'gone in the other direction', and as people say, become a wrong'un. Instead, I went camping, rowing, caneoing, rock climbing in North Wales, and made a great load of mates. I learnt pride in myself, my uniform and the Corps, and got some badly needed discipline. I can't thank them enough. Except to put a link here and wish the CO and all the lads and lasses down there, who work so hard for each other and their proud unit traditions, great good fortune for the future.

To go directly to their website for more information, address, contacts, etc,
click the fearsome tiger above.
Or ring them direct on 0116 266 2865, Tues or Thurs evenings, 19:00 to 21:30.
email the CO: dave.derbyshire@ntlworld.com

(I see now there is also a Sea Cadet unit at Wigston.
A quick call to the above number should get you the details.)

For guys n' gals in Hull that have an interest in the sea and would like to take part,
T.S. IRON DUKE
is Hull's own unit, based in Argyle Street.
They can be contacted by clicking the link,
or email tsiron.duke@yahoo.co.uk

JACK's JOURNEY
is an account, from his memories and his RM service record 1940-45,
of my father-in-law's travels to the Middle East and Ceylon by troopship
during those dangerous years. It tells how we mangaged to piece
his story together, long after I had been told and forgotten a lot of it.
Above all, it explains what an MNBDO is.