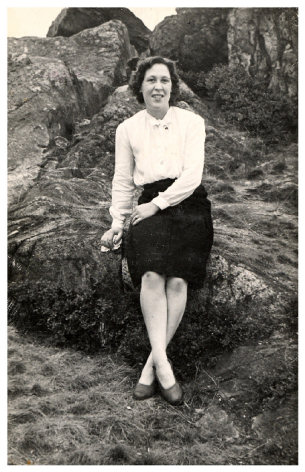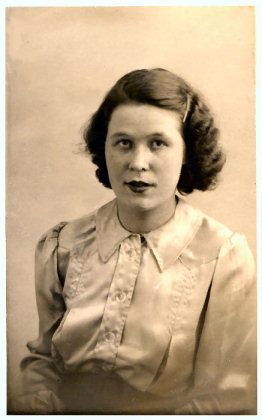 Edna when married ... and (R) Edna as a younger woman ?
Edna was Sylvia's next eldest sister after Mavis, some 12 years older.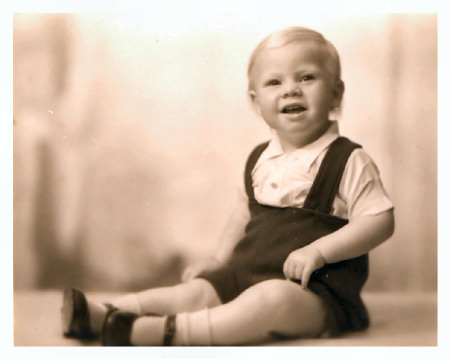 Michael Hill, Mavis' eldest son, as a baby.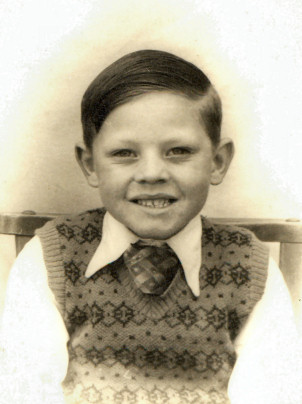 Michael Hill aged about 7.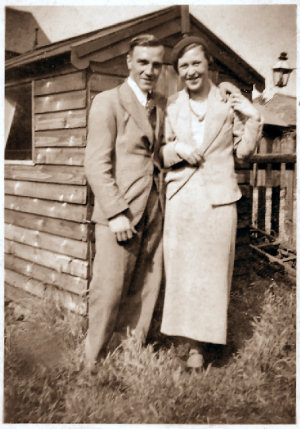 Edna & Gordon in front of her dad's (Harry's) shed.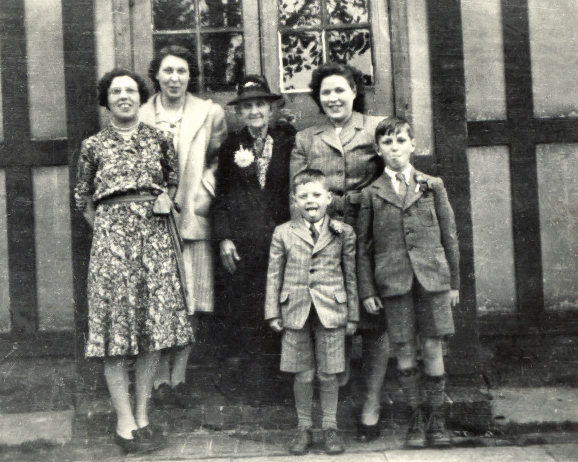 A wedding pic. Whose? L to R ... Gladys, Edna, Grandma Susannah Holt (nee Bannard),
Mavis, with Michael and Alan tonguing in front.
location ? perhaps the old Methodist chapel in Highfield St, near the Co-op.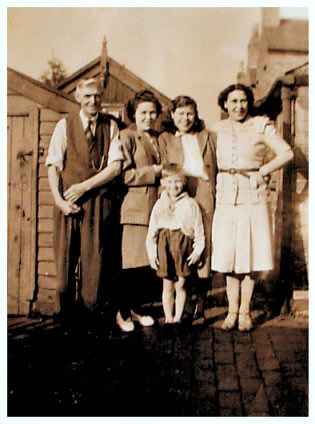 at the back of 208 Highfield St, Coalville, Harry Holt, and daughters, Mavis, Sylvia, Edna,
and Edna's eldest son, Alan, c.1945 or towards the end of the war.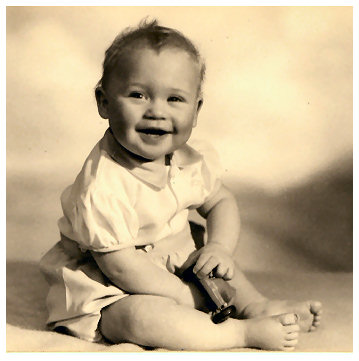 we think this may be Philip as a baby, Mavis & Percy's son.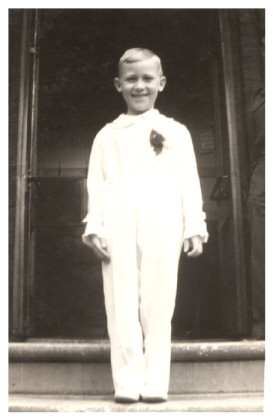 Rodney Saunders, page boy, perhaps at his Aunt Sylvia's wedding.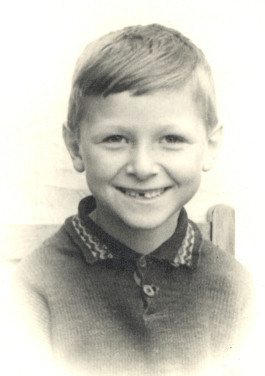 Alan Saunders.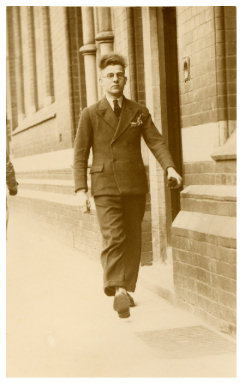 Tom Sawbridge, Uncle Tom, of Loughborough.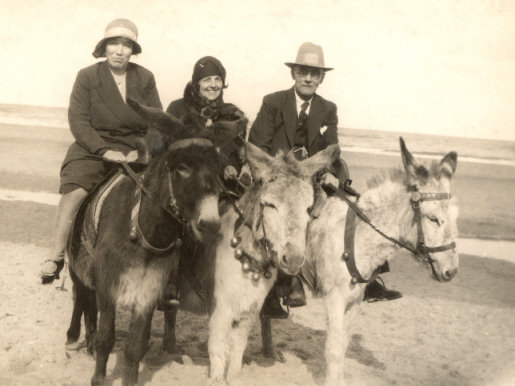 at Skegness, two unidentified ladies, and Grandad Douglas Manderfield of Shepshed.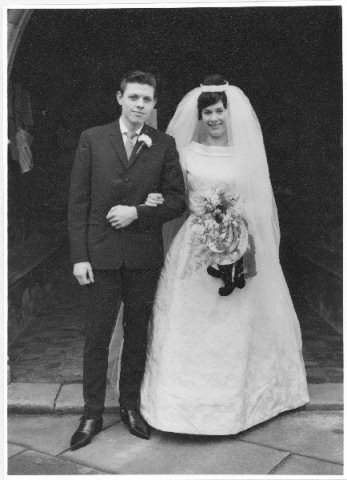 Michael Hill & Valerie's wedding, Earl Shilton, c. 1963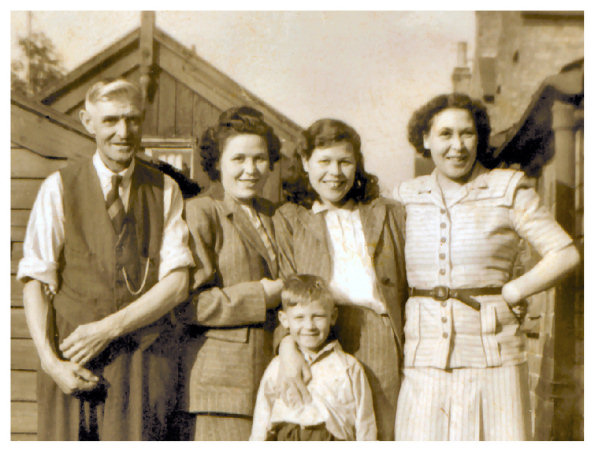 an enlargement of earlier photo above.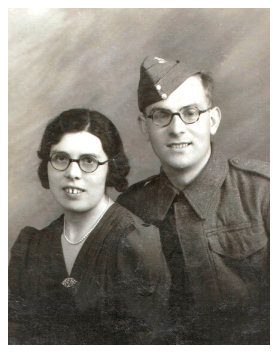 Gladys & Tom .. c.1942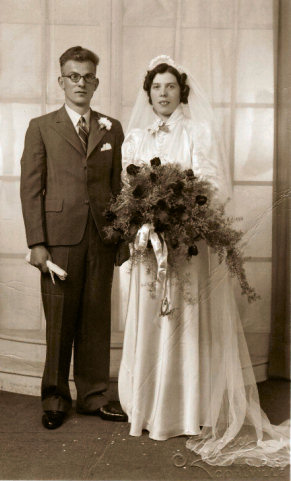 Gladys & Tom's wedding .. 1942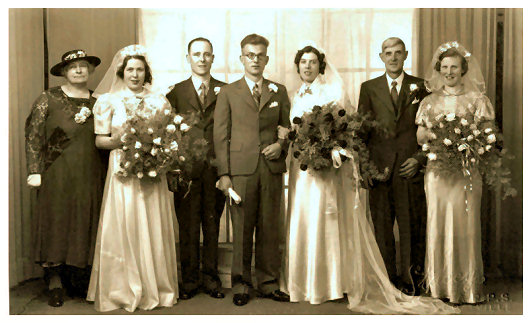 Gladys & Tom's wedding: 3 Aug 1942.
left to right: Ann (Tom's mum, nee Clarke), Edna, Charles (Tom's dad),
Tom & Gladys, Harry Holt and Tom's sister, Grace.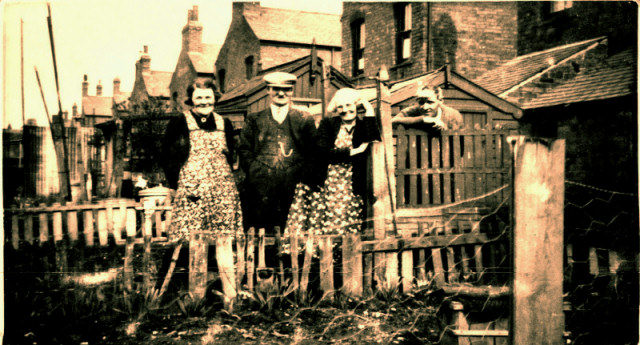 Neighbours at 208 .... Violetta Holt, Mr Chambers, Mrs Chambers, Henry Holt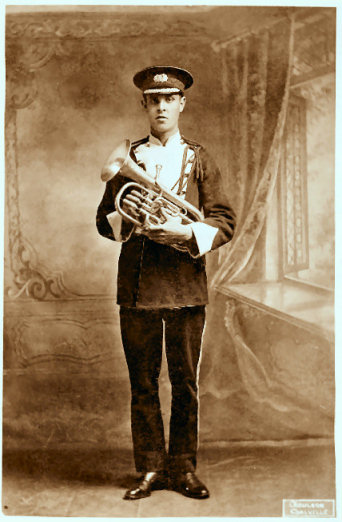 Henry Holt, bandsman, Snibston Colliery Brass Band ?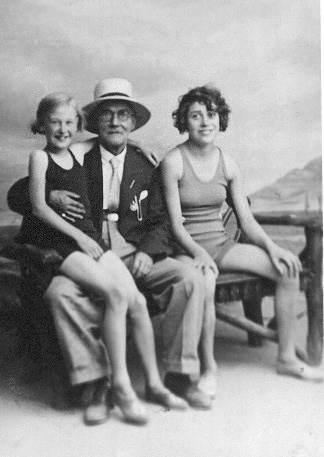 Douglas Manderfield, father of Violetta,
at one time, Superintendant of Shepshed Methodist Chapel,
with two of his grandaughters, Sheila Manderfield, & Dorothy Manderfield.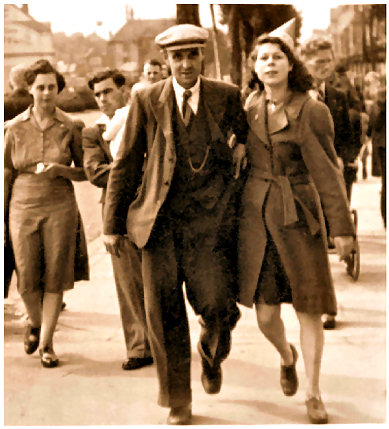 Harry Holt, with youngest daughter Sylvia, c.1945, in Sleaford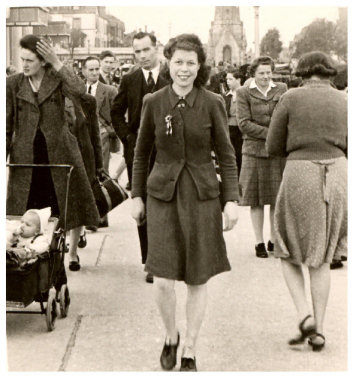 Sylvia Holt, c.1945, in Sleaford, aged 15.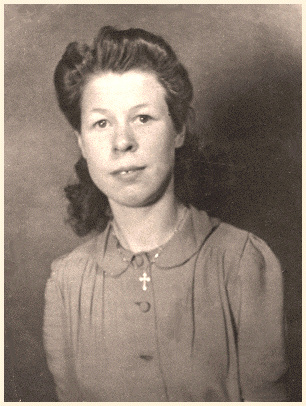 Sylvia Holt, c.1945, possibly 15th birthday studio portrait.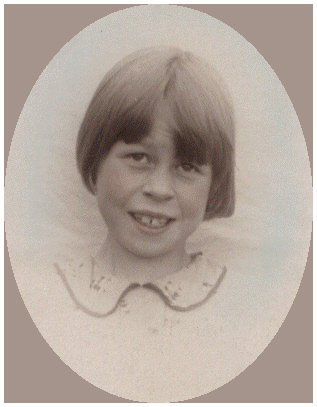 Sylvia Holt, aged about 9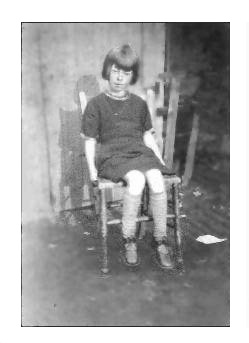 Sylvia Holt, aged about 7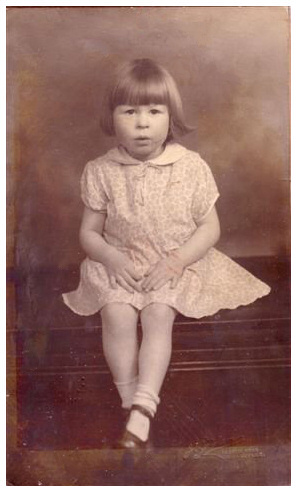 Sylvia Holt, aged 4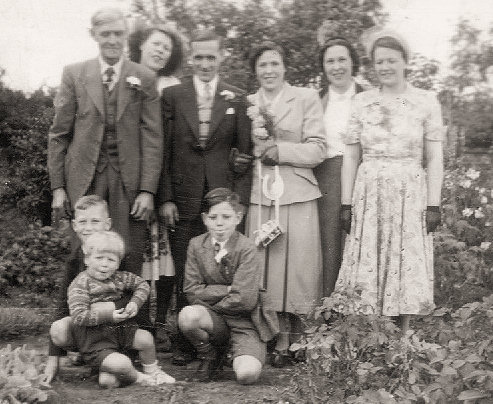 Mavis & Percy's wedding.
L - R ... Harry, Sylvia, Percy, Mavis, Edna, friend,
Alan, Robert, Michael (with tongue again!)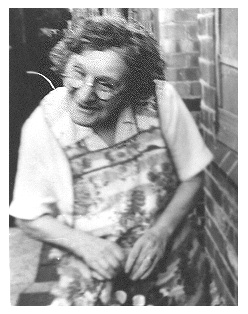 The only grandma I knew, Gertrude (Gerty) Holt,
nee Toone, at the back of 208, c. 1965.
"Hello, me' little flower !"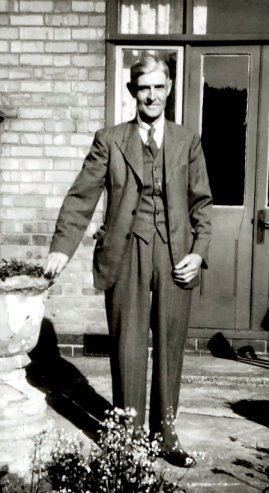 Harry Holt, at Glady's & Tom's first home in Beacon Rd, Loughborough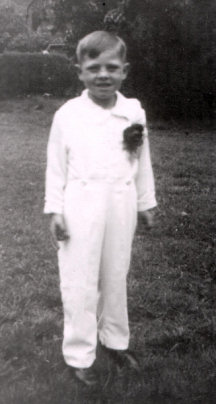 Michael Hill, as page boy to ... ?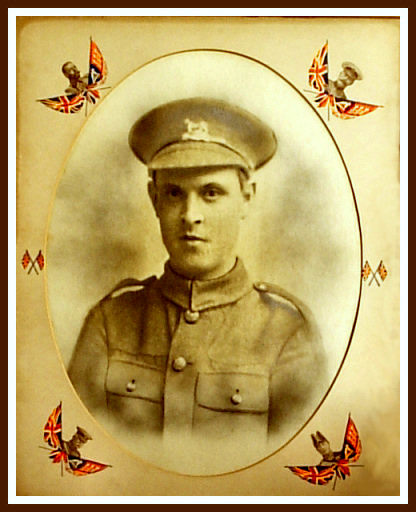 Private Henry (Harry) Holt, 204379
served in both the Leicestershire & Northamptonshire Regiments.
from the charcoal/pencil portrait that always hung over the sideboard at 208.
Served in the army 1911 - 1919.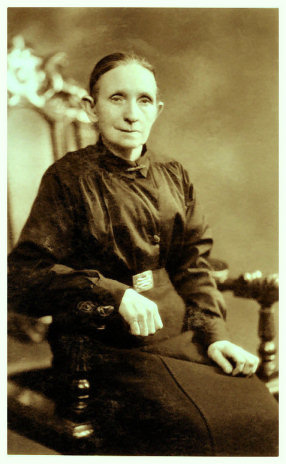 Susannah Holt, nee Bannard, of Northamptonshire, c. 1926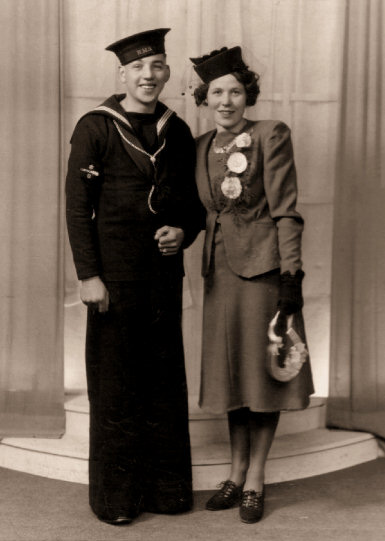 Able Seaman Jack Hill, RN, & Mavis' Holt's wedding, late winter, 1942.
Jack was a DEMS gunner. in the Royal Navy, lost at sea in the last days of
August 1942, torpedoed on an American tanker whilst 'on loan' to the US Navy.
He died having never seen his son, Michael Hill, born in February the following year.
If you click the photo, it brings up a separate page that tells their story.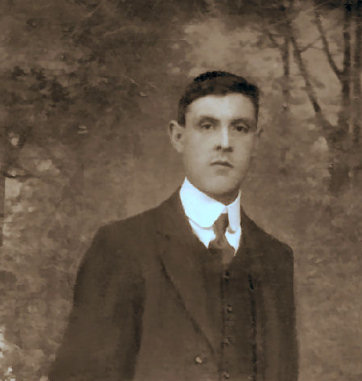 Harry (Henry) Holt in about 1923. You'd never guess from this that this man
had been through four years of unbelievable carnage on the Western Front.
Had been a machine gunner, and mowed men down in their hundreds.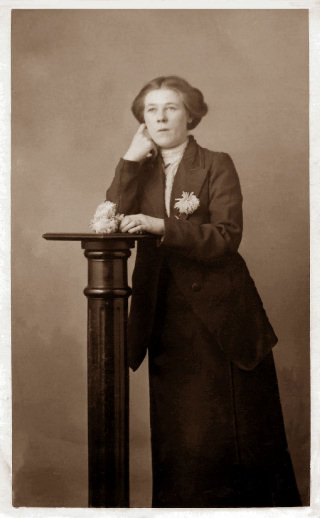 And Violetta, nee Manderfield of Shepshed,
the earliest photo we know of her, as a young woman.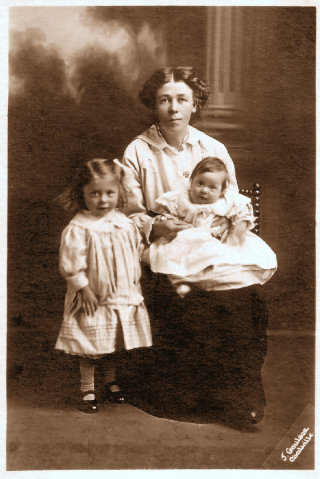 A wonderful photo, Violetta with two of their daughters, Edna (b.1918) and Mavis (b.1923).
This places the time as being roughly late 1923, when Violetta would have been about 33.
She died in 1941, aged 48, when her youngest daughter, Sylvia, was just 11 years old.
Jack, her daughter Mavis' new husband seen above, was lost at sea the following year.
Having survived the carnage of the First War, Harry now lost his wife, and his new son-in-law,
all at the height of the Blitz on Britain. He must have thought his world was coming to an end.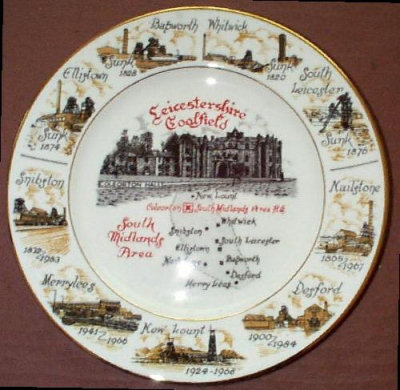 The Coalville Plate, showing main collieries of the Leicestershire coalfield,
and dates of operation to closure.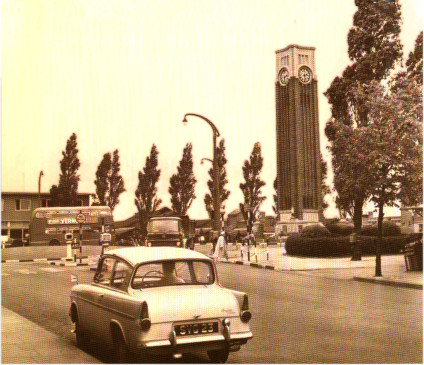 Coalville Clock Tower, c.1965.
Jack Hill's WW2 memorial is enscribed on the base panels,
along with those of Harry Holt's many World War 1 friends.