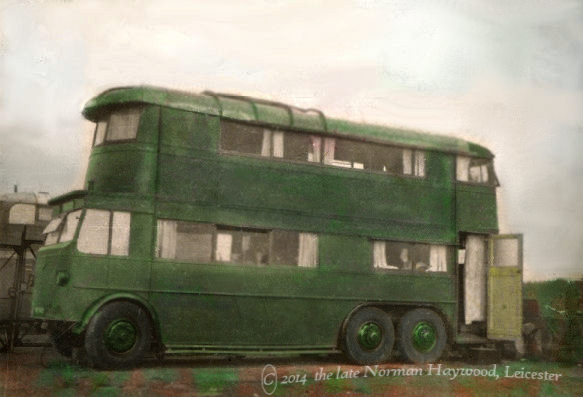 Of course, there were planes here ... it's just that dad seems to have run out of film when he got back from Malta. More likely, times were hard. Really hard. I remember this old trolleybus really well. It was parked, along with several others (indeed, another bus can be seen on the left in the next compound) down in one corner of the camp. I get the impression that one compound was for the caravans, homes, etc, of NCO's, and another for ordinary airmen ! When dad was promoted corporal, mum was forbidden to mix with her former friends, for she was now an NCO's wife, whereas they were only 'airmen's wives'. The snobbishness of our armed services then was unbelievable.

Married quarters in 1953 were still almost non-existant, and so the RAF allowed airmen to provide their own mobile home, and the RAF would site it for them. There was mains water, and electricity, but that was about it. Rough cinder paths connected the various vehicles to the main compound gate. I think we were locked in at night!

Dad and grandad had aquired this beast from a dealer in Ipswich, and as far as I know, it was more or less already fitted out. Mum always maintained it was an ex-London Transport trolleybus ... but I have found out since it was an ex-Bradford 1928 Karrier trolleybus, and a very distressed, mucky green as I recall it. But it had been new to Newcastle Corporation's trolleybus system, one of ten of its type, and later sold on to Bradford. Maybe it suited the RAF that it was painted green, as a sort of camouflage in order not to frighten the enemy, or even that the RAF insisted it was painted green. But there were also whitish caravans and other buses in other colours on site, and the fact that green seemed to be its original colour did eventually lead to a positive ID as to its northern origins. It was withdrawn from service in Bradford in around 1948.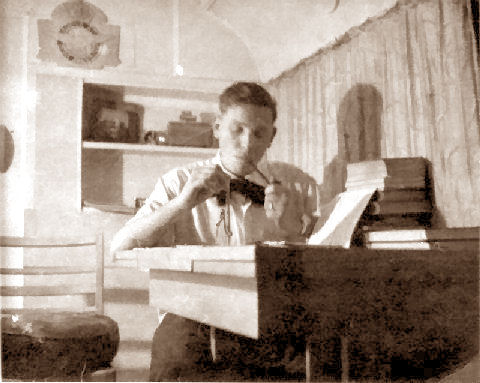 Naturally, all seats were removed, making it quite spacious inside. Even so, it would still have only been the then regulation 7' 6" wide. Eight footers weren't allowed until well after the war. The downstairs saloon became the living-cum-dining room, and a kitchen with sink and worktop, cupboards, etc, were over the twin rear axles where the long sideways seats would have been. The dog, an alsation ex-RAF guard dog, slept in a large basket under the stairs. Dad is pictured here burning the midnight oil at the dining table, no doubt studying for his next qualification, compass in hand as he chewed on a pipe. The only clue that this may just be the inside of a bus is the curve of the roof. Those shelves are in fact in the blocked up window of the back of the driver's cab. Note the RAF fretwork crest on the bulkhead. I've no idea where he got that - possibly Malta - or where it went. I saw it for the last time hanging up in an outside loo of our terraced house in Leicester!
A large water tank lay across what had been the rear parcel shelf immediately over the top of the stairs, and where the back seats had been, a bath ! Then came my bedroom, and the front upstairs saloon was sectioned off to make my parents bedroom, with all the unnecessary windows blanked out. At the side of the full-cab downstairs, where the electric motor would have been, was the toilet, the door of which is just behind that chair. The loo was probably of the Elsan variety. Emptied on Mondays. Pheew!

When dad was posted to Wellesbourne, there were no married quarters there to be had either, so the RAF towed this bus over there for him, by a succession of wierd and wonderful vehicles that I only have a vague memory of now, tractors, petrol bowsers, etc. The journey I do remember, mainly on account of the trouble I got into. I was 3 years-old, and didn't understand the seriousness of the law that said passengers must not be carried in any towed vehicle. And of course, how else was dad to get mum and myself some 150 miles cross-country over to Warwickshire from Norfolk. Dad rode in the truck, or tractor, with his mates. We rode inside, naturally. Along with the dog. Keeping very quiet, and not daring to even peep out of the curtained windows.

Until we got stuck under a low-arch railway bridge somewhere in or near the middle of Wellingborough or Kettering or suchlike. I know it was the centre of a small town, and the bus fastened itself to the brickwork by way of it still having the original trolley girders attached to the roof, seen in the photo. The poles had been removed, but the girders left in situ, making the bus two or three inches higher than a normal double-decker.

This arched bridge was one of those where a high vehicle could just clear it by taking the middle of the road. But this one didn't clear it. And it was a mainline to somewhere, a good four tracks or so, almost a tunnel. So here we were, being towed by either an RAF petrol tanker or a tractor or something, and we came to a grinding, screeching halt. The traffic backed up, and no doubt a few horns were pressed and curses aimed at the poor, luckless airmen assigned to tow this thing. And now, it wouldn't go forward, and it wouldn't back out. We were truly fast. Mum, who was already expecting her second child, was frantic and couldn't do anything, but keep out of sight.

The dog was frantic too, and I must have misunderstood her whining and scratching and clawing at the back door for the need to pee .. so I let her out. Whereupon, tasting a wierd freedom, she bounded off up someone's high street, no doubt scenting her long awaited German or Soviet prey to which she had been trained, and disappeared. And to the consternation of pater, whose windmilling arms were trying to direct traffic along with several policemen that had arrived, as they all pondered how to get this damned thing free. People were much more patient in 1953. But even so, I think it was at that point, 3 years or not, that I knew I was forritt. RAF discipline was tough on a child.

In the end, the police must have either turned a blind eye to this minor offence, or told dad he would be reported to his CO. I don't suppose the police had a form for it. And I don't think there was a nasty outcome, other than I got a walloping for letting the bloody pooch out and embarrassing him in the first place.

We did recover the dog, eventually. And the bus, oh yes. Well, that was released from custody by the simple expedient of letting her tyres down. Mum reckoned it was propelled out by the vibration when a London express thundered over the top of us. I'd love to have had a video of the scene.

Still, we went on our lumbering way to Warwickshire, and mum came home by herself in a taxi from hospital in Leamington with my new baby brother, all wrapped up in a flowing shawl, one bitterly cold winter's day in February of 1954. I sat in our one wooden-arm easy chair inside our bus and held him very carefully in my little arms. For my brother Jeff, his first home was a freezing trolleybus parked in the middle of nowhere, taking our tiny part in the defence of the realm. And he has no recollection of it whatsoever.

SERVICE RECORDS - the whys and wherefores
Update: March 2017

After years of pontificating about it, we finally sent off the forms for dad's service record. For the price of £30, they would have been cheap at twice the price. It is true that they didn't tell us a lot of things I had been hoping for, such as home addresses and particularly on Malta, or even a photo. But by and large, a service record of a man enlisting in 1946 to 1956 was essentially the same format and similarly sparse information as a man in wartime. I'm no expert on deciphering MOD records, so the help of the internet, using Google to do endless searches to find the true meaning of acronyms, was an absolute gift. Even though the RAF Records Department did also supply a 3-page list of acronyms, without the help of the internet, it would have been impossible, and that is even given the fact that I already knew a great deal because dad told me so much himself. Even so, 20 years after his passing, I still got things wrong, or the wrong way round -- ie, training at Yatesbury came before further training at Cranwell. All RAF airmen in the wireless trades could have told me that, of course.

We have, more or less, go to the bottom of what most of it means. A lot of details we thought we knew were confirmed, and some were slightly changed. There are lots of numbers, strokes and undecipherable symbols that refer to RAF service forms, so when the records clerk entered a detail on one line of a man's record, he would also enter the number of the form that he took the details from. At that time, everything was cross-referenced and cross-checked. All over the empire, in camp offices, adjutants' offices and aboard warships, clerks of all services were filling in millions of forms, all numbered in their particularly bureuacratic way, and returning them to their regimental HQ, naval bases and RAF HQs. Even more endless clerks were compiling those into typed returns for filing away, to one day find their way into our National Archives.

The man who filled in, with a proper ink pen no less, our dad's and everyone else's records, would not have known him. Dad was just a name, a number, and what was filled in made every sense to the officers in charge of all this mountainous admin. So for the most part, it is initials and numbers, with very little in what we would call 'plain English'. Placenames are frequently ommitted, actual places denoted by squadron or regimental and battalion numbers. Of all the places dad went to in that 10 years of service, it only mentions three by name, and I already knew of those. The only mention of Malta is when he was leaving it, along with the number 204 which I later found out was the squadron number of the air-sea resue unit where he serviced wireless sets on those ASR launches pictured above, down at RAF Kalafana. It does all take some sorting out.

IF YOU NEED HELP FIGURING YOUR RECORDS OUT ... - - - ... ... - - - ... ... - - - ...
If anyone reading this have records of their own serviceman and are having difficulty deciphering them, I can help. If you scan them, or the relevant parts, and email them to me, I'll see what I can do. I've done lots of WW1 army records, my own father-in-law's WW2 Royal Marine records, and many naval records with names of ships and shorebases, as well as dad's RAF records -- the first of that service I have dealt with. At least you could give me a try before you send them off to an expensive official historian perhaps only to find out the names of some official forms that mean nothing to you anyway, and pay a lot for it. At least I could perhaps recognise certain features that are common to most service records. It took me a long while to twig on that the bracketted letters on the line where the D.Malta (T.Ex.) appears stands for 'Time Expired'. Of course it was! He'd done his two years. And the 'D' was just an erk's abbreviation for 'departed'. It starts to make sense if you stare at them long enough ... roughly about three weeks!

As I say, I'm no expert. There were several other mysteries that we eventually got to the bottom of, but here's a lesson to the unwary, for there's one anomaly even I can't solve, and will need the help of someone who was there, who knows the facts. What I do know for a fact is that for some time, we were at RAF Wellesbourne Mountford, in Warwickshire. I was only about 3 years old, but the thing that nails it for certain is that, as mentioned above, my little brother was born at Leamington hospital a few miles away. Mum spoke of it, so did dad. But dad's record makes no mention of it. On the line after RAF Watton, his previous posting, and before the line of RAF Spitalgate where he went next, it simply says 9 FTS ... then added to that is 9 AFTS. They are Advanced Flying Training Schools, and schools of varying numbers for training pilots were dotted all around the country. All I can find on Google is that 9FTS was based at .. .. .. RAF Shrewsbury, miles and miles away to the west, the other side of Birmingham. By early 1954, when I know we were at Wellesbourne, that base had ceased to be the operational bomber base it had formerly been. What was there was an RAF photographic unit, doing photo recconaisance, and a maintenance unit, plus some other smaller units on the edge of RAF administration. No mention of a FTS. Perhaps the Google record is out of date. Perhaps someone else knows the facts.

I suspect it's a case of his record being not updated with an amended posting, in the way that his Suez Zone posting was. I'm also guessing that he was originally posted to 9FTS at Shrewsbury, but I recall him saying that after Watton, he tried to get a posting that was nearer to Leicester for better ease at getting to see family. That's why the RAF were willing to tow our double-deck caravan halfway across middle England, to this new posting. Maybe that's what happened, he was simply given Wellesbourne instead, before he even left Watton, and never went to Shrewsbury at all, but only to the Maintenance or Photographic unit at Wellesbourne. Which, as I recall him saying, wasn't all that close, but considering RAF airfields in Leicestershire were far and few between, it was about the best he could hope for - and a lot closer than Shrewsbury. Eventually, he got a married quarter at Spitalgate, and saw his time out there.

I'll probably never know the answer to that record anomaly. We can only find out so much, but believe me, there is usually much to find. But, if I can help you with your, I'd give it a go . . . .