A HOUSE THAT TALKS
40 James Reckitt Avenue

We have been aware for many years that our house was destroyed during the Hull Blitz in 1941. Apart from neighbours mentioning it when we first moved here from the Midlands in 1973, we got to know a bit more a year or so later when we had a garage built and needed to see the deeds to the house. Those deeds gave the clue to its 1947 post-war rebuild, something we had known nothing about, in addition to the 1934 'new build' date we had understood when we bought it. Having said that, looking back now, we might not have bought it had we known all there was to know at the time, but that's another matter. We did, and we're still here.

About 10 years ago, when we first had access to the web, I learnt on the Hull Civilian War Dead Index that the lady in No 42, next door to our house, was killed by the same landmine that exploded over all of our back gardens and left the massive crater as shown in the newspaper photo below. The explosion completely destroyed the back of this terraced row of 8 houses, right up to the ten-foot (a local term for the private driveways that give access to the rear of many properties in Hull; so named because generally, they are ten feet wide), and severely damaged those beyond; windows blown in, roofs blown off, etc. Finding no other mention on the Hull Index for casualties in these houses led me to believe that, whatever the fate of the occupants of our particular house, at least they weren't killed.

I couldn't have been more wrong. Recently, we had the opportunity to get sight of the deeds again, and for a longer look this time before they were returned to the bank. The documents were amazing; there were details from the first mortgage, and even a plan of the fields and land that the builders bought for our plots. There were also the details of the first owners, back in 1934. A Mr & Mrs Cawthorn bought this house when it was still a builder's site. Mr Cawthorn's occupation was given on the deeds as a 'railway guard'.

I went back to the Index on the web - and looked again - and bless me if I didn't find them. They were listed as having died in James Reckitt Avenue, but no mention of our house number. Mr and Mrs Cawthorn, aged 54 and 52 respectively, and their 18 year old daughter Audrey, were all tragically killed on that same awful night, 18 July 1941. Another casualty also listed on the Index, Mrs Elsie May Lowe, the lady who lived next door with her father, also died. I've since found out that there was one person killed in our other neighbour's house, and yet another in a house the other side of the ten-foot, in Alston Avenue.

There were six killed in total by that one landmine, which no doubt was really meant for the nearby railway bridge that took the line to the docks. A significant number of other Hull citizens lost their lives that same night, several dozen in one of the brick-built street shelters that also took a direct hit, not so many streets from here. It was a heavy raid by any standards, and Hull was all but set alight - not for the first time and nor the last.

We knew from older neighbours that all these houses had Anderson shelters at the back, but the War Dead Index only gave the Avenue itself as the place of death - or rather where they were found when already dead. So, it would seem they were blown there - from the shelter in the back garden. Only the front facades of the houses were left standing, with the complete backs blown off, and as the fatal landmine was recorded as having exploded at a little past one-o'clock in the morning, it's fair to assume they were all in the air-raid shelter itself, rather than their own beds. Records do show that there had been a warning some time before, an alert, and the sirens were duly sounded. We also know now it would turn out to be one of the heaviest raids of all. It was more than sobering, after all those years of living in this house, to realise that these innocent folk, a whole family and their neighbours, had been killed here after all. What was more striking was that the collective local knowledge of this incident, one amongst many I'll grant you, seemed to have been erased in less than 40 years. There's very few folk around here now who know anything of the history of the area.

Then, just about the time I was able to research the story of those air raids with the better information then coming onto the internet, an amazing coincidence occured. Every morning, at 7am, and for the previous 13 years, my work had taken me to the local GPO sorting office to collect our firm's mail. It's not opposite the Guildhall now, in that imposing white, stone building where wartime Hull folk would last remember it; it's in a grubby little warehouse unit up St Peter's Lane, on the way to what used to be called Sammy's Point and is today better known as The Deep.

In the tiny foyer, if you can call it that, of this mean sorting office, is a double War Memorial to all those who served with the Post Office and were killed in Hull, and those who were called up and killed in the forces, in both World Wars. It used to be just inside the main staff entrance in the old Post Office in Alfred Gelder Street opposite the Guildhall, in a large room with a very high-ceiling, walnut panelled, and not dissimilar to the memorials often found in the halls of public schools. Many large workplaces had such memorials also. It was imposing and appropriate. That 'Post Office' is now a nightclub, snooker club, bar, and posh flats - but the postal authorities moved the memorials when the old premises closed to the smaller local office opened in that single-story warehouse unit away from the city centre. Many reading this will recognise this is where they've gone to pick up parcels after missing the postman themselves. The Royal Mail placed it just inside the rather confined public entrance, opposite a wall of private mail-box numbered lockers. When six people are in there queuing for mail, it's crowded. A marble plinth stands nearby - on which there is a vase containing a bunch of old silk roses, rather dusty and dirty and unattended. They can't even be bothered to keep those clean. Some memorial!

And there, just a little down the list on the lower WWII slabs, is the name;

A CAWTHORN [Miss] CIVILIAN

Below her, is the name

L C L CAWTHORN RAF

For years and years, as I waited for the mail I was supposed to be collecting, I had idly pondered the names on those lists, sometimes seeing what perhaps had been brothers, fathers and sons, etc, - and there was this girl's name, and what appeared to be a relation. The airman L C L CAWTHORN may well have been a relation, perhaps an uncle, for his name also appears on the Commonwealth War Graves site as being killed in 1944, aged 45. The names stared back at me for some moments before I realised the significance of it all - 7 o'clock in the morning is not my brightest time of day. For now it seemed clear that the Cawthorn's unfortunate daughter, Audrey, worked for the Post Office, possibly as a clerk or counter hand, secretary, etc, or even maybe as a postwoman. I have found out since that she was in fact a telegrapher - she was on the switchboard.

It made me wonder what we may find out next. They were clearly a hardworking family, dad a railwayman, a guard, mum a housewife and probably working part-time somewhere, daughter at the Post Office, proudly owning their own home and 'doing their bit'. But just six or seven years into living there, along comes the nasty Luftwaffe in a war not of theirs or their country's making, and blows them all to bits. Furthermore, they must have had a son, serving in the RAF and who survived, for it's his name, rank and signature that's again on the deeds in 1947 when the house, rebuilt with government compensation, was then sold to new owners. Having lost his family, it's more than understandable that the son would then want to be rid of it. We can only imagine the anguish of that young airman on receiving the news, perhaps a telegram, at work on some air station here or abroad, telling of the loss of his mum, dad and sister. If he was abroad, he may not even have got home for their funerals.

There were two or three other occupants after that before we came along in the 1970s. We've lived here for some 38 years, very happy and content and raised our own family. We would often smile, and sometimes curse, when papering and decorating and comment on the fact that there didn't appear to be a square corner in the place, putting that down to the hurried post-war rebuild in 1946. The back-garden path and old garage base, re-laid over part of where the huge crater was, were built to a specification and thickness that would have enabled a Lancaster to land on it! The men who re-laid the ten-foot in 1946 were quite possibly the same men engaged on building new RAF station runways some four years earlier and used the same cement mix! Gardening to this day still turns up large chunks of glass, pottery, broken roof tiles, and once, a large rusty piece of metal which may well have been part of the casing from the original bomb; this was dug up when we re-laid the kitchen floor. It might have all happened over 60 years ago, but from time to time, this house still talks to us.

When I think what that first family went through, I'm even more grateful for what we have now and have had in the past. And I'm forever grateful to those who fought to keep us this way. This was just one house, one house among several thousand others that were either destroyed, or so badly damaged that they were demolished, and rebuilt, as was this row of houses. Many, many more had to have new roofs or tiles. The Cawthorns, and their neighbours, were just four out of some 1300 killed in total, many buried in mass graves in Chanterlands Avenue Cemetery.

There was nothing special about this particular house. It's not hard to buy a bomb-damaged house in Hull. Indeed, it would be harder to buy a pre-1939 house that wasn't damaged. What is a little different is that we now know what happened, or at least some of it. And we remember. And so will those who have the house after us, for we shall leave details behind for any new occupants in the fullness of time. James and Annie, and Audrey, even though we never knew them, will always be remembered.

That GPO War Dead Memorial, by rights, should be in a more fitting place, the names properly recorded, and if it must stay where it is, it should at least be cleaned and attended to occasionally. Our continental friends would never let such a thing get into such a disgraceful state.

A separate page shows the memorial and all the names are fairly clear, but there is a printout below that reproduces the names to make clear any ambiguities in the spelling, plus a key to some of the regimental abbreviations. The page opens in a new window.


---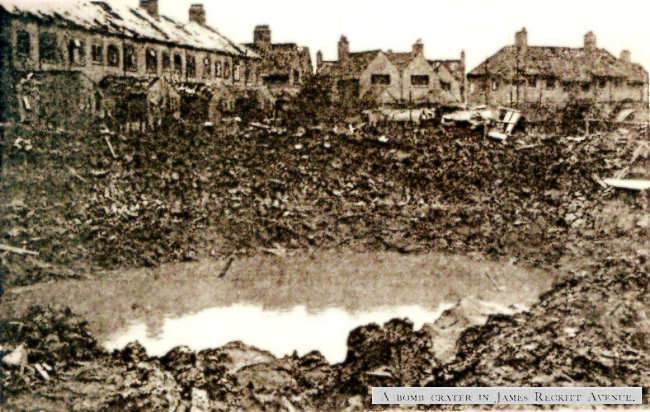 ---