FAMILY HISTORY AND GENEALOGY
HELPFUL LINKS PAGE . . . .
. . . where we list useful links for those wishing to research family trees
in the UK and Ireland.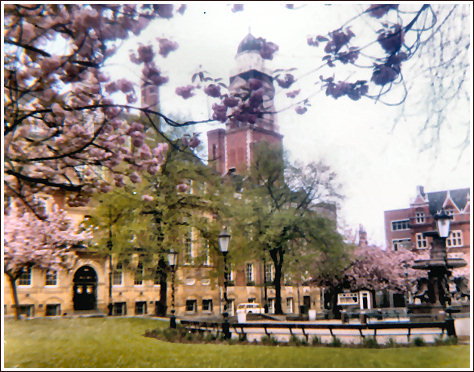 There's a lot of military links to all the armed forces,
past and present, about halfway down this page.
---
We have here an extra page of links.
We hope you may find this page helpful, in your research

Our own family history research is on-going and we are always pleased to receive any help or further information from fellow researchers. Some of our family names appear at the bottom of this page.

The National Archives - for the United Kingdom
This is the foremost source of genealogical information in the UK. They can't trace your family tree for you but they do list the many documents you need to see for your particular search, which town or parish records, etc.

GRO - General Register Office
See also this site where you can order certificates online.
There is NO need to pay more than £9.25 for a certificate;
order direct from the GRO, or go into your local authority offices and enquire.
Some online firms are ripping folks off and charging upwards of £30.
The BBC History Unit . . .
This site has a fantastic number of leads and cross-references for budding genealogists and an enormous amount of help and advice, tips on pitfalls, etc. Well worth a visit, and useful for whatever stage you are in your quest.

Commonwealth War Graves Commission.
A truly wonderful link to an incredible database of all the names of all the servicemen and women who lost their lives in two World Wars - whether they have a known grave or not, or lost at sea while serving in the Royal and Merchant Navies or of RAF aircrew. All service personnel from the Empire and Commonwealth are also listed here.
MORE MILITARY RECORDS LINKS below - scroll well down
GenUKI . . .
This is a very useful site with pages organised by counties.
IGI - International Genealogy Index
the Mormon Church has one of the most extensive archives of births, marriages and deaths anywhere in the world, however, a word of warning: double-check any information you glean from here. Member-submitted information can be suspect!

The Hugh Wallis site
For batch numbers to check out the information gleaned from the IGI above. Using the two sites together will help you to weed out other people's errors and save you an enormous amount of time.
GEN DIRECTORY
Another very useful site with hundreds of further useful links.

IMMIGRANT SHIPS TRANSCRIBERS GUILD
Another huge resource, particularly for those who had distant forebears that emigrated to various new worlds. Massive lists of ships, not just from the UK, but other European countries. They also have a link to a site with some Adoption Records.
Some Parish Records
A site with a few records but more are becoming available all the time.
Scotland's People
This is the official Scottish genealogy resource, one of the largest online sources of original genealogical information, but it is a pay-to-view site.
Gen Forum
Lots of genealogical forums here where you can search for everything from surnames to coats of arms.

RootsWeb
This is a boon to genealogists! It is an all-encompassing site with many links to records in other countries. Subscribe to one of their mailing lists for free – the choice is endless from all the counties and countries in the UK - and the world!

A picture and brief history of
Aylestone, St Andrew's Parish Church, where we were married.

We hope the above has been helpful - please tell us via e-mail should any of the above links fail to work.


---
Now a little information about our own families. There is a short family tree on the Home Page, but here are a few more details. If you think you are connected in any way, please feel free to get in touch.

Our short family tree is on the 'OUR FAMILY' button in the menu
Valerie's maiden name was STEVENS, originally from Aylestone, but whose father was from Hinckley in Leicestershire. Other earlier STEVENS came from Enderby, Croft and even earlier from Oxfordshire.

Valerie's mother was a SWANWICK, from Blaby, south of Leicester. We have got as far back as 1797, but we're fairly sure now that they weren't from Blaby before then. The name alone possibly suggests a much more ancient medieval link to Nottinghamshire.

Val'smother's mother was a FRETTER from Aylestone near Leicester, but originally the family came from Spratton and Welford in Northamptonshire. We now have lots of info on the FRETTERS, and they may well have been German immigrants.

Both Valerie and I grew up in Leicester. Val attended Sir Jonathon North School on Knighton Lane East until 1967, and I was at Crown Hills Secondary School at the top of Gwendolen Road up to 1965. I had a brief period at Ashby Ivanhoe in the summer of 1965 after my parents separated. We met in 1968 whilst both were working at Simpkins & James in Horsefair Street. We now do have two or three pics of the shop,
purloined from various websites. Thank you to those contributors.

My HAYWOOD family are all originally from the Griffydam, Pegs Green and Coleorton areas of NW Leicestershire, roughly in the Coalville-Ashby-Whitwick triangle. Any more information prior to 1852 would be very helpful, but other records strongly suggest
now that their roots may be more likely in Nottinghamshire as well.
The name seems to be more centred on Nottingham and Derby, rather than Leicestershire.
My mother was a HOLT of Coalville, and her father, Harry, was born in nearby Donington-le-Heath. His father was from Thurlaston, born about 1867. Earlier than that, we've no idea.
It could be that Thurlaston was a brief sojourn south, and they were always
from the Hugglescote area in the first place.

My mother's mother was a MANDERFIELD from the Shepshed area and this name also links back into the CORBETT family history. Any further help there too would be much appreciated.

My father's mother was a SMITH of Aylestone, and because some of Val's FRETTER family are also of the Aylestone and Blaby areas, we wouldn't be surprised if we are also distantly related down our parent's mother's lines. The 1880 census suggests
that their gardens backed onto each others somehow. We feel sure they
would have known of each other. Hope they were friends! Some chance!
My great grandfather, James HAYWOOD, was born in Griffydam in 1875, and he married Edith ISON of Leicester in 1897. Edith was descended from a branch of the HASTINGS family, who were of Humberstone and thence Lutterworth, Welford and then Newark. Their line is well-known and can be traced back to the Middle Ages and Baron William Hastings of Towton Moor fame; there are also links in several places into that line of medieval kings, the Plantagenets, et al.



I reckon that if you are English, on both sides, and can trace that heritage back to the 1800s, then something like a quarter of England's native population also have links somewhere to one or more of the landed gentry families, so also giving them links back to the Plantagenet kings. The proportion is even more likely for those from the south of England and into the midlands, but less likely from Yorkshire, Lancashire, Cumbria and Northumbria - but not impossible. There will be a quite few folks from County Durham who also have Plantagenet ancestry, but not so many as to be found further south.

Likewise, not every English family from Sussex will be certain to have it, but such links are more common there, and all around the Home Counties. When you get back to the 1400s and realise that at that level, we all have several million great grandparents each, it stands to reason that in a country that then only had a population of four or five million people at best, many were related to each other.

Just look at any list of the names of the noble families of England, and realise that between them they had hundreds of daughters, many of whom then married into the commonality, or their daughters and grandaughters did. The numbers of such females then, by the 1800s, runs into many thousands. The trick is finding the records that link to such a line. But it is only one line, there's no money or glory in it. Here's a page with a list of the

Elizabethan Peerage

on it, look at the wide variety of surnames, and you'll see what I mean. How many daughters and female descendants are there in that lot? With each generation down the line, the likelihood of marrying an ordinary untitled working man gets higher and higher.

Here is a rough list of names I've just extracted from Elizabethan times of first generation surnames that did, somewhere, connect back into the nobility, and thence to royalty. Yes, it's true many of the girls of these families will have married into other noble lines, but that would still then have considerably extended this list. But a good many married into ordinary families, and the next generation likewise. By which time this list of surnames would have doubled if not trebled, and so on down the years.

Audley ~ Berkeley ~ Berners ~ Bindon ~ Blount ~ Bourchier ~ Bradenham ~ Broke ~ Brooke ~ Browne ~ Brydges ~ Buckhurst ~ Butterwick ~ Carey ~ Cecil ~ Cheney ~ Clifford ~ Clinton ~ Cobham ~ Compton ~ Conyers ~ Cromwell ~ Dacre ~ Darcy ~ DeVere ~ Devereux ~ Dudley ~ Eresby ~ Fiennes ~ Fitzalan ~ Gilles ~ Grey ~ Greystoke ~ Hastings ~ Hazelwood ~ Herbert ~ Hornby ~ Howard ~ Hundson ~ Kent ~ Knyvett ~ Latimer ~ Lumley ~ Manners ~ Montague ~ Mordaunt ~ Morley ~ Mounteagle ~ Mountjoy ~ Neville ~ Norreys ~ North ~ Ogle ~ Oughtred ~ Paget ~ Parr ~ Parker ~ Paulet ~ Percy ~ Radcliffe ~ Rich ~ Russell ~ Sackville ~ Sandys ~ Scrope ~ Seymour ~ St.John ~ Stafford ~ Stanley ~ Stourton ~ Stuart ~ Sutton ~ Talbot ~ Toddington ~ Touchet ~ Vaux ~ Vavasour ~ Wentworth ~ West ~ Wharton ~ Willough ~ Willoughby ~ Witton ~ Wriothesley ~ Zouche

Genetic links back to Plantagenets, and so by default, to the Normans, is far more common than most folks think. Just start digging and you'll find them.

Any help on any of my family names above this list would be very much appreciated, and perhaps we could perform a likewise service for someone else - isn't that what the Internet was made for, after all?

---


MORE MILITARY LINKS All open in a new browser window leaving this page still open behind. Use ALT + Tab to alternate between them if you wish.

Western Front Association
This was formed with the aim of furthering interest in the period 1914-1918, to perpetuate the memory, courage and comradeship of all those who served their countries in France and Flanders and their own countries during The Great War. It does not seek to justify or glorify war. It is not a re-enactment society, nor is it commercially motivated. It is entirely non-political. The object of The Association is to educate the public in the history of The Great War with particular reference to the Western Front. Applications for membership are welcomed from anyone with a like mind.

World War I . . Trenches on the Web
Well worth a look for a complete directory of maps of the main areas of operation in Europe, 1914-1918.

Army Roll of Honour at The National Archives
This site can be used to find a war grave or burial site. Use in conjunction with the Commonwealth War Graves site below.

Commonwealth War Graves Commission
The first place to look if you have name, service, which war, and knowing a rank will help enormously with the most common names. Includes the Merchant Navy.

The Royal British Legion
The quintessential ex-serviceman's organisation, famous for organising the annual Festival of Remembrance in the Royal Albert Hall, and the annual Poppy Day collections nationwide.

MOD Records and Contacts
A useful site for all service records, with site linking to records offices for all three armed services, and also information on how to apply for copies of medals and decorations awarded.

World War I Medal Rolls
This site is actually a page on the National Archives site, which shows army records for men who served in WW1. Over half of these records were destroyed by enemy action when bombs fell on Whitehall in WW2. Years later, someone cleverly realised that if a man or woman served abroad in the First World War, then they were almost certainly awarded a campaign medal. And those records survived the bombing. This is a database of those Medal Rolls, including those who died. To send for an image of one particular record, the cost is £3.50, payable by credit card online.

The Veterans' Agency
A site with formation on service medals and how to find service records, and lots more information besides.


The National Army Museum is in Royal Hospital Road, London, and has free admission. They host an ongoing programme of exhibitions, talks and events throughout the year.


RAF Museum, HENDON The most famous aircraft museum in Britain, and the only national museum dedicated wholly to aviation. The website has many more links to archives and RAF history.


RAF Records Office A direct link to a page for access to RAF service records of all personnel. Part of the Veteran's Agency pages above.


WAAFS The Home Page of the Women's Auxilliary Air Force Association and a host of information about how they provide members with practical and other assistance, and arrange meetings, outings and other activities.

WRACS
Information on the Women's Royal Army Corps Association, including the ATS, or Auxilliary Transport Services, who were the women pilots that delivered warplanes direct from the factories to the squadrons.

National Maritime Museum
This site in Greenwich holds records for casualty lists of merchant shipping losses; See the Collections Page. Also pages on The Queen's House, and the Royal Observatory, Greenwich.

WRNS
is the the Women's Royal Naval Service Benevolent Trust, the women's section of the Royal Navy. The trust was founded in 1941 to help the women who served in the Women's Royal Naval Service. Every woman who served between 1939 and 1993 is automatically a member of the Trust. They still help and currently assist over 400 former Wrens each year.

NAVAL HISTORY NET
This is a truly incredible and valuable resource, and it is growing every day. Devised and provided by Gordon Smith as a tribute to his father, killed at sea in WWII, and also his grandfather, who served in both world wars. It lists EVERY naval casualty of the RN and Dominion Navies, including Royal Marines, who were killed or died, by enemy action or by accident, whilst in service at sea, or on a shore station, including between the wars. For instance, it is incredible how many men, and women, we lost just to road accidents in foreign ports. Also lists all our warships, where they served, what happened to them, in fact, just about all you want to know about our Royal Navy history. It is sobering to see lists of dead, day by day as we go through the months of war, and see a whole ship's company of sometimes hundreds of men, often designated as MPK - missing presumed killed, but the exact fate of that ship is still unknown. Just that she was sunk or bombed and was lost without trace with all hands - very, very moving.

Royal Naval Museum
is located within Portsmouth Historic Dockyard and this site has all the information you need for a visit. It includes links to history and records for Royal Marines.

Royal Marines Museum
is at the old RM HQ and officers mess at Eastney Barracks, Southsea. Includes links to the Band Service, and RM Commandos, and advice for young people on how to prepare in advance for training to be a Royal Marine Commando.

Royal Naval Patrol Service Association
is a very useful link we show here because so many men from Hull and the Humber ports volunteered, often as whole crews together in much the same fashion as the Pals Battalions of the Great War, that I thought it proper to have a direct link. There's a picture of the RNPS Memorial at Lowestoft, as well as their museum and HQ in what was HMS Europa in Sparrow's Nest Gardens in Lowestoft. The memorial overlooks both the gardens and the sea. This is for all those who served in "Harry Tate's Navy" - brave men, and their contribution, no less vital than say the pilots of the Battle of Britain, has so often been unrecognised. Minesweeping, anti-submarine patrols, air-sea rescue, and a lot of 'dangerous and dirty' jobs no one else would willingly undertake, all fell to the men of this unique if unglamorous outfit. Taking on a submarine in only a fishing trawler armed with a 12-pdr gun, doing both Atlantic and Arctic Convoy escort duty, landing Special Forces and reconnaisance units on enemy shores, were all no mean feats. And for those that survived, when the war was over, it was simply back to the fishing and earning a living in one of the most dangerous occupations on this earth - or sea. This site honours them all.

Fleet Air Arm Museum
This site, at RNAS Yeovilton, Somerset, will change your perception of aircraft museums. The museum has the largest collection of Naval aircraft anywhere in Europe together with the first British built Concorde, on which you can go aboard and visit the cockpit. Find out more by exploring this website and then see for yourself.

Eden Camp
Finally, if you didn't live through these wars, but want to know much more about them, the privations and hardships your family had to bear, experience a little of the atmosphere of the times, then you should visit this excellent museum. I use the word "experience" advisedly. You will not feel the real fear and cold and pain, but you may come to understand a little, just a little.

Remember this if you go - as you pay your money to go in, you know you will be coming out. Also, you have the benefit of 70 years of history that tells us that, not only did Britain and the free world win, but that we were right do do what we did. Your forebears neither knew for certain we were going to win, until roughly 1943-44, and for much of the war, most didn't really know what was going on elsewhere. To put it simply, folks in Coventry and London, suffering as they did, had no idea that Hull was having it just as bad, because no-one told them, except by heresay, and that was just rumour when all said and done. Men falling on the field of battle at El Alamein were not to know that this was to be a turning point. Few held the full story. We know all this now. And when the full story came to be told, few realised how much of a close call we'd all had - we very nearly didn't win.

For those of you that did experience all this, and served, and though frightened to death, still went back off leave for another dose of what you knew was coming, still went out at night firewatching, still went to work daily not knowing if your work was still there, still ushered your family and children down the shelters almost nightly, I salute you! And so should everyone else. Most of us will never know, let alone repay, the debt that we owe you.

HOW TO FIND MANY MORE MILITARY LINKS FOR YOURSELF

All these above sites will contain many, many links to lead you further on into your research. Also remember that there are hundreds if not thousands of websites posted by indiviudals, service veterans, their families, that document particular regiments, squadrons, or ships. Use Google and enter basic details: for instance, enter SQUADRON 160 RAF CEYLON - and see what pops up. You'll find some instances of where ex-aircrew have posted up actual reports of Air Accident Investigations for losses of individual aircraft. There's information now on the web for all to see that was not given or available to the relatives of lost servicemen at the time of their deaths.

More Searching Tips:

Similarly, search for ships by name, especially the more famous ones - type "HMS HOOD" and use the inverted commas to force a search for the whole name. Many names are thoroughly ambigouos, such as the county class cruisers like the SUFFOLK and DORSETSHIRE - you need to box a bit clever with these, and add the name of the theatre of war, or action, or enemy ship they were engaged with. Type SUFFOLK BISMARCK and see what pops up. There are 57,000 references, the vast majority pointing to the ships themselves, though some will coincidentally be referring to the county of Suffolk and also some gentry that were related to Count von Bismarck himself. Also with ships, after loading the links, another worthwhile search is for an IMAGE SEARCH. I did it and the first four pictures are of the Royal Navy cruiser SUFFOLK herself, and the fifth was a pic of her Swordfish aircraft taken from the film, SINK THE BISMARCK, starring Kenneth More. The ways of searching are endless.

Type 4TH BTN NORTHANTS - and 42 links pop up that contain references to that particular unit in that county regiment, some of which will link to the regimental museum itself. If you have the name of a particular action or battle, type it in, eg; SOMME NORTHAMPTONSHIRE, and also use NORTHANTS, as when a battalion is referred to, the colloquial terminology is often used, the shortened county name. For instance, a man would have said he was in "the 4th Northants, the 1st Leicesters, or the 8th Warwicks."

The amount of information already out there is nothing short of incredible, and this is early days in the history of the web. It's only really been growing apace for this past 10 years. Don't be put off by quantity, you'll soon learn to fly through the flotsam and jetsam of the internet and spot the information you're looking for.


---


Ever heard of Jan Baalsrud ? Those few of you who have read the 1955 book "We Die Alone" will know who I mean. He was a Norwegian resistance fighter during WW II. He had one of the most amazing experiences and escapes ever told, and his sheer strength and endurance is an epic tale in itself, let alone naked courage. What would you make of a man who amputated his own toes? Well, 9 in fact - all bar one of them.

If you want to know more, go to Google.com search engine, and type in "Jan Baalsrud", just like that, in inverted commas. Up will pop plenty of links. What a story! The book was re-published in the early 1990s. I spent several years not quite believing it, and only found it was true on the Internet, when I saw a photo of Jan with King Haakon. There's more to this story than I'm telling - I'm not giving the end away- see for yourself. The best read you'll ever have. A real hero, in anyone's book! Young ladies should note that REAL men used to be built like this years ago!