Please note: These words, paragraphs and thoughts below, are my own, and have been here for some 20 years or more now. You may now see them plagarised and reproduced all over the web whenever you happen on sites and articles that mention the blitz on Hull, but this is where they were posted first.

As indeed are the maps. If anyone 'owns' the copyright to the maps, it's 'AGE CONCERN'; that is where the map that I first scanned came from, being on display there for several years in a glass case in their old building. Who owned it before that, exactly who prepared it, is still a mystery. We have to presume the Hull City Council at the time, for only they would have been party to all the information to put the maps together. But it was myself that split the map, did the artwork on the sections to tidy them up, remove the worst creases, and indeed made the actual plots clearer. The original map was not in good condition. I 'restored' it, and here is where it was seen first.

If you want to use sections of the maps for your own site, or indeed quote my words, I cannot stop you, and nor would I. The maps are not mine, but the article below is. So, for your own use, for family history purposes, that's what they're here for, please do feel free. As to plagarising my words, it's no good banging on about copyright to folks that cheat and lie about where they found their material, as can be seen on websites everywhere. But an acknowledgement would be nice, indeed polite.

But then, this is the here & now, and not the age I grew up in - .



---

The Hull Blitz

Some Thoughts and Points to Remember

It should be mentioned, indeed remembered, that over 1,200 people in Hull lost their lives in these raids, and some 3,000 were seriously injured. The city spent over 1,000 hours 'under alert' over the six years this horror lasted. For most people, that meant taking cover, in their own or communal air-raid shelters. Over three-quarters of the total housing stock was either totally destroyed or damaged to some degree. Some Hull families were 'bombed out' two or even three times. In all the radio and newspaper reports of the time, this great port city was usually only ever referred to as a "North East Coast Town", supposedly to avoid giving tactical information of damage, and sucour, to the enemy.

Consequently, it is only in more recent years that Hull has been recognised as one of the most severely bombed places in Britain, and her citizens paid a higher price than most for their chilly east coast position. Hull often took bombing meant for more inland places, such as from enemy aircraft fleeing down the Humber to the open sea after failing to find Sheffield, or Leeds, or other northern towns, the victim of pilots who needed to 'dump' their bombs.

It sounds cruel, but it was normal practice for bombers to have to dump their unused, unloaded bombs, before returning to base. No pilot, our own or the enemy's, would risk a potential heavy or crash landing back at base with live and armed bombs still aboard. But the difference between our RAF crews returning from bombing raids over Germany, and German Luftwaffe crews returning to their bases from bombing us, is that pilots and aircrew of the Luftwaffe didn't care where they dumped their bombs. The RAF had strictly observed dump zones in the North Sea and English Channel, where our own pilots could safely unload unused bombs with minimum risk to civilian safety. Our aircrews often had 'secondary targets' where unused bombs could be unloaded on enemy factories or port installations, but it was not always possible for an aircraft to reach them. Many an RAF crew paid the ultimate price for not just dumping anywhere, when an anti-aircraft shell, or an enemy night-fighter caught them, and scored a hit in the actual bomb bay thereby causing the aircraft to instantly blow up. The RAF did not dump indiscriminately, without thought as the German Luftwaffe cruelly did. Almost without exception, the RAF dumped their unused bombs at sea, in those accepted safe zones, clearly marked on their charts and well away from coastlines. As pointed out, just getting clear of the coast to do that was problematic with a severely damaged aircraft. Perhaps critical folk on the continent in Holland, Belgium and France, and yes, even Germany, should remember that occasionally. We treat their folks far better than the Germans treat ours.

So in their rush to dump unused bombs, it would be fair to say that the German Luftwaffe often served Hull a good deal more punishment than was originally intended. Not that the word 'fair', as used here, is even remotely appropriate. The Germans did not wage 'fair' war, they waged total war. Some folks conveniently forget that the Nazi war machine, the Luftwaffe, deliberately intended to bomb and kill civilians right from the very start. That was the whole idea, that was their main intention, the whole reason for the blitz, first on London, and then the rest of British cities. They did it in France and Belgium when they first invaded there; indeed, ask Poles how much regard for civilians the Germans had when they flattened Warsaw in just a few days. Terror was the name of their game, and they were good at it.

And there lies my main point; it was a massive difference in mindset. I suggest that not one RAF pilot took any pleasure from knowingly killing women and children, however accidentally it may have happened, and most would only say that it stuck in their craw to have to do it at all.

If any RAF pilot or air gunner had been caught by his mates deliberately strafing civilians in the street, he would have been severely reprimanded if not court-martialled, let alone totally rejected by those same colleagues. He wouldn't have had any mates! Some of our own pilots would have willingly taken such an offender out, round the back of the mess, and shot him themselves. But many German pilots revelled in it, as if it were 'sport' like chasing a fox or rabbit. More than one farmer on his/her tractor working the fields was shot at from the air by murderous German aircrews in their bloodlust. The documented accounts of such strafings, of chasing civilians with machine-gun fire along town and city streets throughout the war, are numerous, recorded as fact and undeniable. Indeed, one famously recorded incident happened right here in Hull, when civilians were machine-gunned from the air down Holderness Rd, and that incident very close to the end of the war even when the Germans were losing! Even then, with defeat staring them in the face, they were murderous in the extreme. Too many people today seem to be in some doubt just how much effort it took to put those swines down and what it cost in innocent lives ... including their own German civilians.

You will probably also notice, as others have and I often wondered about, the large clusters of bombs that are recorded on the outskirts of the city in what were then fields, and also in places like Pickering Park. I hadn't realised until recently just how many barrage balloons were moored around this city, upwards of 80 or so, and many were moored in those very parks and open spaces, often not too far from the anti-aircraft gun and searchlight batteries. These balloons forced enemy pilots to fly much higher than they'd really have liked to or else risk colliding with the balloon itself or ripping a wing off on the thick metal hawsers that anchored them to the ground. Those hawsers were similar in thickness to those used to moor a ship in the docks. Several barrage balloons, around 15 or so, were anchored to specially adapted balloon barges moored out in the Humber all along the riverfront, known as the 'E' Waterborne section, and most of the others around the city were anchored to a winch on the back of a heavy lorry. They were increasingly driven and operated by women, by the way, ladies of the A.T.S. These were very mobile and could be moved about from site to site, though in practice, most stayed relatively fixed. Of course, the lorry with its collapsed balloon could be driven to and from the their base camp at RAF Sutton for repairs, or a total replacement if required.



RAF Sutton on Hull

Needing a local balloon barrage depot, the RAF took over a large site on farmland at Sutton, along Wawne Road, which became 'Hull's Own Air Force Station', to be the maintenance site for all these balloons, their lorries and crews. Balloons weren't really effective against high level bombing, nor meant to be, but were more designed to discourage dive bombers, Stukas, such as those that had such devastating effect in places like Warsaw. Dive bombers were the real worry, perceived even before the war started as the real terror weapon, not least because of the screaming noise as they dived - and because they pointed themselves directly at their target, they were incredibly accurate. In the German case, ruthlessly accurate. The enemy fitted a specially designed 'screaming device' to their aircraft specifically to achieve the terrifying noise that would frighten civilians into even more panic. Continental folk that had already been subjected to dive-bombing called these planes "Screaming Death." A very graphic and apt description indeed.

To that degree, balloon barrages did work, as by and large and as with other UK cities, Hull was not dive-bombed in the way continental cities were, the prime example being Warsaw. Alongside a balloon site was often an anti-aircraft gun site, of four, sometimes five 4-inch high-angle guns, plus searchlights. By necessity, these were usually sited on open ground - in parks within the city, and open fields without. Additionally, the city was ringed by a system, top secret then but common knowledge now, called 'Starfish', of decoy sites to lure enemy aircraft away from the blacked-out industrial and real docks areas. False fires, burning tanks of old oil, plus searchlight and anti-aircraft batteries making the area appear to be heavily defended, were out in the open fields ringing the city. Some farmland to the east of the city was flooded to a shallow depth, in land cut to mimic the shape from the air of Hull's docks when reflected in the moonlight. These elaborate decoys obviously worked, and thus saved many more lives, as shown by the plotted number of bomb falls. But, as is the way with these things, many fell on the nearby outlying housing estates with devastating consequences. Unintended consequences indeed, but it does explain the maps to a large extent.

I find it incredible, and amazing, that through all this chaos and carnage, time and effort was taken by the authorities at the time to plot the fall of every bomb, and note every type, no matter how devastating the raid. Without that record keeping, under the most severe of circumstances, the map you see here couldn't have been made. Of course, there was a good pragmatic reason for it - not all bombs went off. Plotting a stick of 6 bombs and only being able to account for 5 gave bomb-disposal squads a fairly good idea where the missing one might be. For often, an unexploded bomb, lying deep in a garden or allotment, was then buried by the spoil from another blast close by. Sometimes, a bomb that had failed to detonate on impact would go deep into soft earth, then actually change course underground when it came up against harder clay. It was known for them to enter and travel along a sewer for quite some distance. Such a bomb could often be found several dozens of yards away from where it entered the ground, and just because it hadn't gone off on impact didn't mean it couldn't, or wouldn't explode, if the slightest thing disturbed it. So the authorities needed to know everything about a raid. All in all, it says much about the British of the time, of our forefathers and grandfathers, their sense of order amid chaos, that they would stand out in the open observing, noting down in indelible pencil on thick notepads everything they saw. I doubt we would achieve as much now in only half the circumstances. With the way the world is shaping up at present, we may soon find out what our limitations are and our society be found very wanting.

So I take my hat off to them, every ARP warden, Fire Watcher, council worker, train, tram and bus driver, all the police, nurses, doctors and all the emergency services, every postman and midwife, waterworks and gasman, and engineers of all kinds as well as the myriad of other staff in every type of public and commercial life, on the docks or in the town, who attempted to make life as safe and as normal as possible for the many, and to mitigate the worst effects of the horrors of total war on women and children, and the elderly. And not forgetting the Scouts ... yes, boys, under 15, that acted as couriers, messengers, weaving in and out of bombed streets on their bikes to take their notes to a central control point.

It is now fashionable for certain foreigners to criticise the British for our 'stiff upper-lip". But that is just what was needed then. No room for wailing and hysterics at a time like that. No time for tears and histrionics before news cameras and thoughts of compensation and someone must be sued. No mamby-pamby gutter-press journalists hoping for people to break and crack before the all-staring camera lens. No spare staff for counselling to make folks believe they hadn't really just lost both their home and half their family all in one night. They gritted their teeth, cried and grieved in private, and went to work next morning. Sick leave just for trauma wasn't an option. As many people said - and with a characteristic smile - "Business As Usual". And they just got on with it. That's why we survived as a nation, and that's why we won. For those that didn't make it, we should remember what it cost them. Hull has its own mass graves - in Chanterlands Avenue Cemetery - to remind us.

These maps are therefore a testament to fortitude. May the Lord help us if anything remotely like it ever happens again, for I'm damned sure the society we live in now couldn't help itself. Criminal looting would be a bigger problem now than it ever was then, even if we did have a 'shoot to kill' policy. Yes, occasionally, even back then, there were looters. And yes, they were shot. No mistake, and no apology. There are many accounts, not just in this city but also London and all the others, of bombed out families coming back to their properties when the authorities had made the street safe, sometimes a week or two later, to find whole rooms essentially intact - and everything untouched - I kid you not, that's how it was. It wasn't a question of just locking the front door - many houses had neither a 'front' nor a door to lock. But they largely remained untouched. Things broken, yes, covered in dust and debris, shattered glass all over the place, but cupboards and drawers still often contained personal effects, even valuable items. We're in a much different society now. Some would say broken.

So total war involves everyone. Everyone is in the front line, including women and children. The descendants of those 3,000 Hull casualties can testify to that. And to go back to the issue of unexploded bombs, 'UXB' as they were called, it should also be remembered why so many German bombs didn't go off. It has been estimated that between a sixth and a fifth, or perhaps 20%, of all German bombs were 'faulty'. Unusual for such thorough German engineering? Well, no, it was not the engineering. It was sabotage. Tens of thousands of civilians in conquered European countries, but particularly Poles and French, were used as forced slave labour in German munitions factories. They knew full well what they were doing, and took immense risks to sabotage the bombs themselves. Perhaps their main motive was in thinking that the bombs they were being forced to assemble would be used against their own countrymen, so I don't pretend that in all cases they were especially thinking of sparing the British. But that is the effect it had, and many of those unfortunate slaves paid for their silent resistance with their lives when caught.

However bad it was during the blitz, we should remember that it could have been much, much worse had it not been for people now long forgotten; and it's also worth remembering that many of them were actually German. Yes, the Nazis used some of their own people, mainly dissidents, union members or those thought be be remotely left-wing, as slaves. Many were women, and when caught sabotaging armaments, the Germans did execute them, often by beheading on a guillotine. At the very least they were shot, and that usually after torture. We owe them all a huge debt of gratitude. So not all German people were our enemies - and likewise, not all Frenchmen or Russians were our friends. Look up on Google the 'White Rose Society', and you'll see we're not talking Yorkshire here. For folks who cannot for 'concience reasons' wear a red poppy, I would suggest they wear a white rose instead. I would happily wear both.

It has also been fashionable in recent years for some "British" folk to question our actions against Nazi Germany, with regard to our retaliatory bombing against Hamburg, Cologne, Berlin and the cities of the Rhur. Those people tend to forget who started it. One big difference between our veterans, and German veterans, when ours all line up on November the 11th to remember their respective dead - our servicemen and their descendants do not have to search their consciences for the reasons they were fighting and giving their lives. Germans, in the main, were not fighting for survival, they were fighting for a megalomaniacal dictator who promised them great things and great wealth at other peoples' expense. They were a nation hoodwinked by clever politics, yes, but that doesn't alter the facts. Germans have to try to forget that when remembering their comrades in arms that died for a murderous tyrant. Our veterans will never forget it, and probably not let them forget it either.

Terrible things are done in time of war, by all sides, some out of sheer cruelty, but many are out of accident or lack of imagination as to what could or might happen. Such is the fate of war. But in the realms of sheer cruelty, if ever there were two names of European cities that should always be remembered as monuments to evil, they're Warsaw, and Guernica. If you don't know where the latter is, look it up on Google, or see the link below. Hull was at least spared that. Even Coventry and London were spared that. Probably due to the forethought and careful placing of barrage balloons and the people that manned and maintained them - and another point worth remembering is that later in the war, after around 1942, most of those anti-aircraft sites, searchlight batteries and balloon tenders, were manned solely by women. And very good they were too.

The Bombing of Guernica 1937 and also Hitler's Destruction of Guernica. If you're young, and never heard of this, these accounts will shock and horrify you. Read them before you criticise the bombing methods we had to take to destroy the swines that could do this, and moreover, laugh while they were doing it. It's because Britain did eventually defeat the Nazis that you can happily still speak English, elect your government, and can even dare to question anything at all to do with government. For German youth that did criticise and question what the Nazis were doing, I mention here again what happened to members of The White Rose Society. That's not pleasant reading either.

If you would like to see an authoritative diary of day-to-day action over the North East, including up to Tyneside, do see NE DIARY - and look for Sunderland and the account of the Heinkel Bomber that was shot down over some terraced houses there, killing a mother and wounding her husband and daughter when it finally crashed into their house. That is typical of the tragedy of war - our little victory in stopping that bomber going further, but a mother's death as the price for it. That sort of thing happened not once, but with variations, hundreds and hundreds of times.


Find out elsewhere on the web about the little girl in Bristol, dazed after a bomb destroyed her house, that fell into another bomb crater, and the young lad that went down into it to help her. He got into trouble, and couldn't get out. Two ARP wardens then went down to help them. Rescuers eventually recovered the bodies of both children and two men ... gassed with the carbon monoxide fumes following the explosion.

It still amazes me that so few today understand anything about what happened in this city during those dark days. Perhaps ignorance is truly bliss, for they don't know how fortunate they really are. But with all the information there is around now, all the museums and films and books and rolls of print on how it was in WW2, telling what it was all about, and the price that was paid, how can so many folks still not know? Do they know it is almost impossible to buy a house in Hull built BEFORE 1939 that WASN'T damaged - not an easy task? 86,715 homes were wrecked to some degree - 152,000 people were made homeless. Only some 5,000 homes had no damage at all. And that is just in ONE city in the UK - others were just as or nearly as bad - London, Manchester, Sheffield, Glasgow, Plymouth, Coventry; the list goes on. And as I've pointed out, the Germans were already well practiced in the black arts of terrorising civilians from the air before they launched their black wrath on us. We can count ourselves fortunate that combinations of forward planning, the RAF, Civil Defence, Fire Watchers and our emergency services, and all those tragic folks who made sure there were so many faulty bombs, all spared us much, much worse.

As to the intensity and severity of Hull's suffering, I reproduce here an excerpt from the 1960 autobiography of Herbert Morrison, one of Churchill's wartime cabinet. He was firstly Minister of Supply, and then Home Secretary for much of the rest of the war. He frequently toured the country, with and without Churchill, to see for himself blitzed towns and cities. This is what he said about the blitz on Britain, comments I first saw on a BBC People's War history site recently, though I suspect they have been widely used elsewhere:


"The Coventry raid was, of course, appalling in its intensity and as it was the first serious attack on a provincial town it goes down in history for the creation of a new word for human brutishness - coventrated. London with its sixty consecutive nights of bombardment received the greatest tonnage of bombs, as well as daylight raids, but London is very big and as the world knows London could, and did, take it. But don't underestimate the troubles, anxieties and sufferings of the Londoners. Plymouth, as a naval town and easily identifiable on the coastline, received a terribly concentrated series of attacks and Liverpool had a nasty week. Manchester, Belfast and Clydeside had nasty times. There were others.

But in my experience and from remembrance of the reports, I would say that the town that suffered most was Kingston-upon-Hull. We had reason to believe that the Germans did not realize that they were bombing Hull. Morning after morning the BBC reported that raiders had been over a 'north-east town' and so there was none of the glory for Hull which known suffering might produce.

The raids on Hull were only occasionally concentrated so that the devastation of a few houses did not produce stories of disaster and heroism to repeat far and wide. Hull often suffered for what might be said to be no rhyme or reason except that it was an easy target. But it was night after night. Hull had no peace. I have since been honoured by this courageous town by being appointed High Steward and it was a privilege for me to tell the citizens that the government was fully aware of their sufferings during the war and the heroic manner in which they had endured them.


So, as far as Hull is concerned, and how bad it was - 'nuff said.


---
ADDITIONAL NOTE: added 26 Sept 2005
It was recently brought to my attention of a serious omission to the bomb plot data on Map 5.
On the night of 14th April, 1942, a High Explosive bomb fell into the back gardens of 2 and 4 Woodlands Road, just off Willerby Road. The bomb destroyed a garden air raid shelter, and 4 females from those two houses were killed, one of them a two year-old baby.
I am grateful to Mr Terence Vickers, whose grandfather lived nearby and attended the scene to assist in the rescue of those trapped and injured, for bringing this omission to the original data to my attention. Therefore, Map 5 has been duly amended to set the record straight.
The details are recorded in the Civilian War Dead Index, and in the NE DIARY quoted above.


---
THE ONE AND ONLY FLYING BOMB:
Further news: A correspondent contacted me in 2017 to say that, as a 12 year old boy living on Spring Bank West, he had witnessed a flying bomb, V1, pass over his garden heading towards Willerby Rd. Mr Don Pattison said it was very low, and had frightened him and a neighbour at the time, as it only just seemed to skim the top of the nearby railway bridge and embankment. It would seem that the rocket was flying very low, almost level and similar to the manner of today's cruise missiles. It had been air-launched from an adapted German bomber off the coast. He also recalled the date was Christmas Eve, early hours, hence he had still been awake hoping to hear the bells of 'Santa Claus', when he heard the roar of the rocket engine, and recalls seeing the tail of the flaming rocket exhaust as it passed over. Indeed, there is such an account, with a few more technical details, on the HULL & EAST RIDING AT WAR website.

History tells us now that this was the one and only V1 bomb to land in the Hull district, though apparently some others overflew Hull to land much further west, even Pocklington. At such early hours of the morning, Don was one of the few to have seen it, though many will have been awoken a few seconds later by the enormous blast when it landed. Ironically, Don also says that his father, who was stone deaf and never knew a thing, didn't believe him when he recounted what he had just seen! Such is fate.

The story of such a late V1 attack, Christmas 1944, perfectly illustrates how, just when Hull's inhabitants could well be forgiven for thinking that 'all that was over', you could still never be sure. Allied forces had long over-run the V1 and V2 launching sites in Northern France, and so the Germans went to great expense and trouble to devise how to launch them from the air over our own coasts. Some today are in great admiration for such German industriousness and clever ingenuity; I still can't consider it to be anything but a determination to perpetuate their sadistic evil for as long as possible, even when defeat was as good as certain by that time. Remember, the war ended but 4 months later. Clever it might have been. It was still evil.


---
Our Very Own Crater
The picture below is the enormous wartime crater covering the gardens at the back of our houses in JRA, caused by a parachute mine that fell in 1941. It looked rather like a large metal dustbin and packed with explosives. It was set to go off at a pre-determined height, usually around 20-30ft or so, to cause maximum blast damage as well as a rather large hole. Houses just at the edge of Garden Village can be seen in the distance. When it was eventually filled in, after the war, several old buses and cars were used as filler, as well as hundreds of tons of rubble. The lady next door was killed when this parachute mine went off. (see more news below). This was by no means exceptional, albeit quite a large bomb, there were similar craters to this in residential areas all over Hull and in all our bombed towns and cities. Mind you, to hear some Hull folk talk today, you'd be hard pushed to realise all this was only 70 years ago - just two generations, and many have already forgot. If a town has a memory, a collective memory, it seems to be woefully short these days. I'm pretty sure that Poles, Russians, Czechs, French, Belgians, Dutch, Danes, and all the other nations that were wronged by their bullying neighbour won't forget in ten generations, let alone two. It's just we British that are soft. Forgiveness is one thing. Forgetting is something else.

ADDITIONAL NOTE : added 2 Mar 2006 - Click this link to go to a Separate Page for more information on this particular land-mine, and the incredible coincidences that led to extra information about this tragedy some 60 years later.

---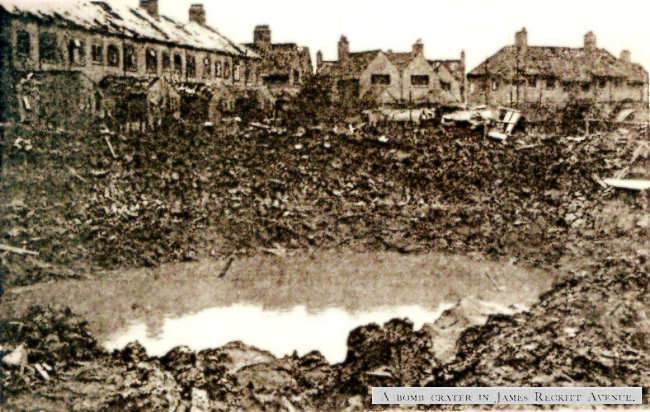 ---
This small image is a link is to part of a fascinating aerial photograph, taken by the RAF in 1943. The more I look at it, the more I see. In the large format book, PLAN FOR KINGSTON UPON HULL 1945, two of these huge photos appear covering both sides of the city. This is about a 20% extract from the East Hull photo.

Landmarks are : Holderness Road running SW to NE across the bottom of the pic, with part of Newbridge Road just visible across the corner ; Barnsley, Buckingham, Mersey, Durham Streets all slanting away in parallel across the middle to the NW ; our area of the bottom end of James Reckitt Avenue , top end of Endymion Street , and the various railway embankments, bridges, etc ; the whole of Garden Village to the right, clearly showing The Oval and most of Holderness House ; the large field that was to become Archbishop Temple School at the top of Westcott Street , and the large areas of allotments at the back of the drain and Reckitts sports field , now the site of Dove House Hospice ; East Park Boating Lake is just visible, top right ; the dark line running across the bottom left corner is the old low level railway, that crossed Holderness Road via a level crossing - most of you will know it better now as Mount Pleasant , running parallel to Courtney Street ; and finally, the old Drain runs up the left side of the photo.

Bombsites show starkly in the snow, and this is, for the most part, some 2 years after they fell - and JRA shows all the original young elm and lime trees, planted in opposite pairs, all the way up to Chamberlain Road and beyond. . The elms were lost in the 80s to Dutch Elm disease. The photo opens in a new browser window.





[ 307Kb ]




You'll need to give this photo a few secs to load, into a new browser window. Just close it when you're finished with it.