Why not join us?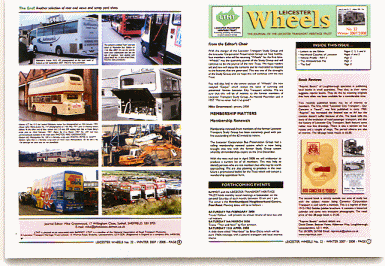 The Leicester Transport Heritage Trust was formed in October 2007. The Trust was the result of a merger of two well established groups, the Leicester Transport Study Group and the Leicester Corporation Bus Preservation Group.

The purpose of the Trust, which is an educational charity, is to bring together a wide variety of people with either specialist or a general road transport interest relating to Leicester and Leicestershire, and to provide the opportunity to pool resources and publish the results of ongoing research on a wide range of local transport related topics.

The area of study could be an aspect of the transport work force, a class of vehicle, an operator, or a manufacturer. The exchange of information is conducted by written correspondence and by regular informal meetings. The information is then either published in the group's journals "Leicester Wheels" or "Corpo" or as a separate publication. We sincerely believe that transport is also an integral part of the development of the region's social history.

Members of the Trust are also invited to submit articles for "Leicester Wheels" to stimulate further discussion. The area for study is the whole of Leicester and Leicestershire and covers principally bus and coach operators over any period, 'ancient and modern'.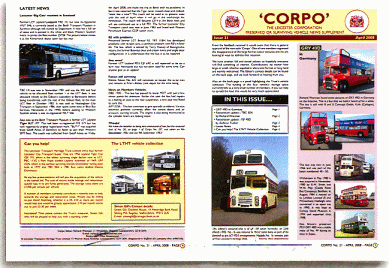 However, the focus of study does not stop at public transport, with heavy and light commercials and the growth of ownership of the private motor car being absorbing topics in their own right.

In the first instance we have restricted the study to just road-borne transport as we need to ascertain how well local rail history is catered for currently.

The Trust also has some exciting medium and longer term objectives. It plans to establish a local transport heritage centre where its extensive archives can be made available to researchers, and its collection of full size vehicles and small objects can be displayed to the local community. The Trust owns five ex-Leicester City Transport buses, but the current membership can muster a further 19 vehicles, ranging from 1950 to 1982, and all of these have a connection with Leicester and the County.

Whilst the heritage centre is a longer term objective it is hoped that in the shorter term a mobile transport-heritage bus will be commissioned. This will be taken to community events and would also visit schools to show the rich and varied history of road transport in the Leicester area.

Hopefully, this brief introduction will have fired your imagination and enthusiasm and encouraged you to join the Trust. If so please email us to obtain more details, or print out and return the membership application form shown below as soon as possible. (the form is being worked on; it will be shown here shortly)



Can you help us -

Add to our archives?
We are always keen to receive donations of local transport related items, large or small, to our archives. If you have something that you think may be of interest to us, then please write to:
Chris Jinks, 8 Ingrams Way, Wigston, Leicestershire. LE 18 3TU
or call (0116) 281 3693 (evenings)
email: chris.jinksl@btinternet.com
or
email Chris directly
The Trust is currently building a new website:
LTHT website
Sustain the LTHT vehicle collection?
The Leicester Transport Heritage Trust Limited owns five former Leicester City Transport buses. They are:
OJF 191, a 1956 Leyland Tiger Cub, the oldest surviving single-decker new to LCT.
PBC 113G, a 1969 Park Royal bodied Leyland Atlantean.
UFP 233S, a 1977 Dennis Dominator, the earliest survivor of that marque.
TBC 50X, a 1982 East Lancs bodied Dennis Dominator.
264 ERY, a 1963 Leyland Titan PD3A/1, converted to open top for 'Shakespeare' tours.
Membership


As any preservationist will tell you the acquisition of the vehicle is the easiest bit! The cost of secure inside storage and restoration quickly eats into any funds generated. The storage costs alone are over £ 1400 per annum per vehicle. A number of members currently contribute a monthly sum to help towards the storage and restoration costs.

Would you be willing to join them? Anything, whether it is £5, £I0 or more per month would help and would be greatly appreciated.
£I0 per month works out to just £2.30 per week.
Interested? Then please contact the Trust's treasurer:



Simon Gill, Oakfield House, IA Penkridge Bank Road,

Slitting Mill, Rugeley, Staffordshire WS 15 2UE

email : simongill217@gmail.com

or

email Simon directly

If you would like to download a Word.doc version of the

Membership Application Form

CLICK HERE
---
The brochure is published by the
LEICESTER TRANSPORT HERITAGE TRUST
13 Warren Road, Enderby, Leicester LE 19 2DR
Leicester Transport Heritage Trust Limited
is a company limited by guarantee and a registered charity.
Registered in England as a company (No. 6406326). Registered Charity No.1124024.