Page 1
| Page 2 |
Page 3
|
Page 4
|
Page 5
13. 14.
Photo 13 Leyland Atlantean PDRA no114 at the new Rushey Mead terminus, just a few weeks before I finished conducting for good. The difference in colour between these two photos is in part due to the camera, film, etc, but not entirely. When these Atlanteans were delivered, the pale cream of former years had become a stronger, almost butter-yellow, colour.

Photo 14 PD3A/12 no.17 is here at the Melton Road (42) terminus, on what proved to be my very last conducting duty of all, an evening on The Park, with my last regular driver, Mick Mason. I passed my test the next day, and that was that. Goodbye ticket machine, fares and stages, heavy cash bags and four years of running up and down stairs. No wonder I was a lanky streak of bacon and as thin as a waif then. I started to get fatter directly after this, on passing my test. I couldn't climb out of a cab window and slide down the bonnet now, as Mick had done here. I'd be pushed to climb into a cab at all in the normal way!


---
15. 16.
Photo 15 My very first turn on the road as a driver - 24th Aug 1972. Two days after passing my test, they let me loose on the unsuspecting public of Evington. Here, I've just finished cleaning and adjusting my mirrors before setting the blinds up to run out to Evington to do an early morning service 69 from 'The Dove'. My supervising driver took the photo.

Photo 16 Bus 52 in APR, alongside 78, sporting its new Willowbrook roof following its decapitation under Lancaster Road bridge. No, it weren't me that did it! The driver that did do it was the first ever to regain his PSV and work again as a driver for LCT. Prior to that, decapitating a bus was curtains for a driver - forever.


---
17. 18.
Photo 17 A front-entrance AEC Renown, 189, just in from Nether Hall (route 61) and bound for Braunstone on a cross-city working. We only had three of these front-entrance versions, and so, like other 'minority vehicles', were highly unpopular. They had a perspex roof upstairs, just visible here, which in effect made them suitable for ripening tomatoes in summer - temperatures could get well over 90F, if not over the 100F, and we called them Sweatboxes with good reason. As far as the cab was concerned, they were the same as the other Renowns, 36-45, apart from the lever-type handle to operate the platform doors. I once caught a dog by the neck on its lead in one of these - unintentionally, of course. That's what came of not operating strictly to 'the bell' and relying on a turn of the head to see if the doors were clear - we couldn't see down to the road, except in the mirror. That's when I saw the dog, a fluffy, white poodle, dancing alongside the bus on its hind legs at the end of its very long lead, but I was already putting the engine into 2nd gear by then. It didn't half jump a good height when I stopped and opened the door, right up into its elderly lady owner's arms. I suppose it was pleased to see her.

I thought I'd seen the last of these when I left Leicester - but no! East Yorkshire Motor Services had half a fleet of 'em, as well as front-entrance Bridgemasters . . all of them older than this and real pigs to drive.

Photo 18 Leyland Atlantean PDR/A1, no.185. The back of this photo says "The Love Bus" - probably a reference to the fact that Val and myself did a good deal of our courting on this vehicle. With the gentle connivance of my driver, Greg Duric, of course. He being a true romantic from Yugoslavia who knew the importance of young love. It was amazing how many times on late turns that we'd go to a barrier to take over the next bus for our last bit of late duty, and it would be 185. I got to drive it a few times later as well. Seen here about to do an 87 to Eyres Monsell from Bowling Green Street.
---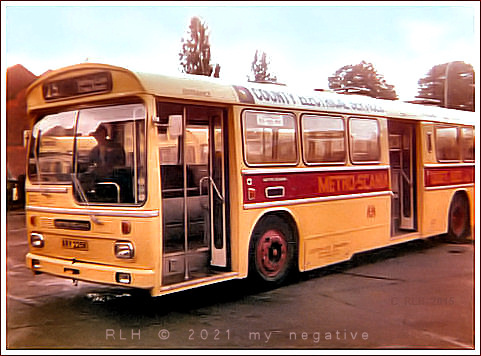 19.
Photo 19 LCT had already got quite a few Metro-Scanias when this one, 225, arrived. It was the first of the 'quieter engines'. The legend down the side says "METRO-SCANIA QUIET BUS". It was a little quieter, but all the Scanias had a distinctive note, and got progressively noisier as they got older, and made more smoke. In those days, noise was considered a bigger problem than pollution. Low sulphur diesel was but a pipe dream - the Green Brigade but sparkles in their fathers' eyes. These Scanias could shift n' all. Slipping along the cobbles through Knighton Lane East tunnel on the Outer Circle at 10.30pm on a wet winter's night could be quite an experience at about 40mph with some of our drivers of eastern origin at the wheel. I vividly remember the bounce of the suspension as the bus hit the cobbles and bottomed out for the run through the tunnel, with a noise akin to crossing a 300-foot cattle grid. I'd love to have tried it for myself, but alas, I never got to drive one of these in Leicester. I managed it a few years later on the double-deck Scanias on Hull City Transport, but alas, we didn't have a cobbled tunnel under six tracks of mainline railway there.


---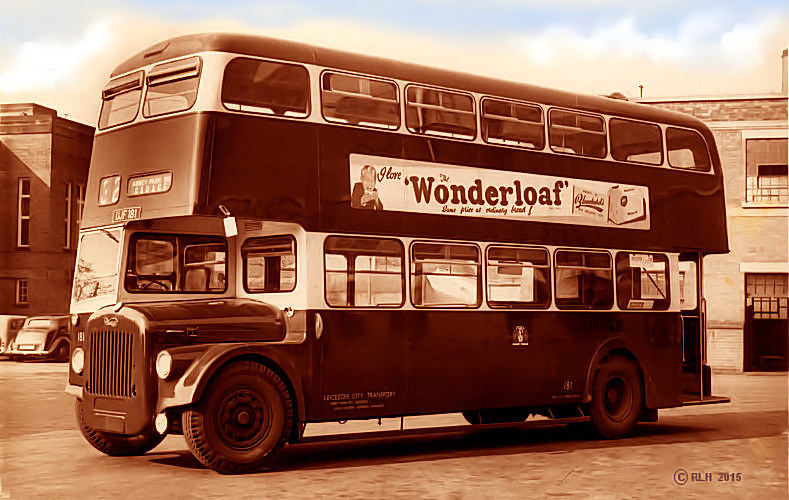 20.
Photo 20 And so to another classic that I never got to drive - the highly unpopular Daimler CVG6. I conducted them all, 179 - 184, (there were only five of them), at various times, and most memories are of life in a freezer. But, I will say they were light, airy and spacious in summer. Just slow, painfully slow - even cyclists used to overtake us and milkfloats used to race us. This photo shows a smart bus when new and resplendent in the old livery of LMS coach-maroon and cream. This was a type, like the Bridgemaster, that the newer, modern livery of reversed colours just didn't seem to suit. This photo has been heavily doctored from the b&w to give some idea of how smart they were.

This chocolate colour is not so far from reality, and gives a reasonable impression - impressive when the paintwork was still glossy but not quite so when it was worn thin after umpteen leatherings going through the bus wash. A bit more like a pale, sanded undercoat then, as if the topcoat had been of water-based emulsion, and washed off as easily. I've only just noticed on re-scanning this; why did they locate the number plate above the cab, when there was so obviously a place for it in the front panel below the grill ?

As for the white, sliced bread so advertised on the sides of buses in those days ... uggh! Defies comment.
---
Page 1 | Page 2 | Page 3 | Page 4 | Page 5


Early Bus Memories
a separate page of text,
a child's-eye view of memories of
the Midland Red and LCT buses in the 50s
and then on to memories of the
Corporation Driving & Conducting School
at Abbey Park Road in 1968.

Conducting - how it was done
Another separate page solely on conducting a bus,
more exactly, how it was done on LCT in the late-60s, early-70s,
and in particular by me, and my memories of it.
Duties, shifts, ticket machines, athletic passengers and much more.
Be warned - it is a long treatise.



Rob and Val's Home Page

---
---