Looking to the platform in the lower saloon of No40. The long back seats were 5-seaters, as against the 4-seaters in all the Leylands. These vehicles were amongst the earliest to have full-length strip bells in both saloons, a boon to any conductor and driver, with a mind to time-keeping when busy. Taking fares, issuing tickets and change, all at the same time as keeping an eye on the platform and then having to find and reach for a single bell push in the older PD2s and PD3s, was not easy to new conductors. Strip bells meant you just had to raise your arm whilst watching the platform, and there it was.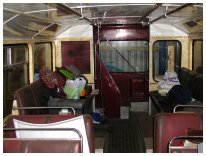 A real bonus to any conductor, and for the driver, the bell in the cab on these AECs wasn't so loud, and seemed to be in a higher key. It made a "ting" rather than a mighty "CLANG!" of the PD3s that took the polish off yer' eardrums. The other over-riding memory is, of course, that these buses were warm, even without the doors. The only thing that most drivers had against them was the heavy steering, and being AECs, not a very lively turn of speed.

As a new driver, it took me a little while to cotton on to the fact that the engine was not exactly fore-and-aft like most engines. It not only was slightly out of line, it was tilted too. This was to enable the prop shaft to the rear wheels pass to the side of the central gangway on its way down to the offset diff, so allowing the lower saloon floor to be an inch or two lower. This meant that selecting gears was not a straight back and forth action, but pushing the stick slightly out and away from oneself. In fact, the line was exactly in line with the cab wall, or the engine bulkhead on that side. It wasn't much out of line, but enough to constantly grate the synchro-mesh if one wasn't aware of it.
Compared even to the Leylands, that also had East Lancs bodywork, these did seem extra spacious. There was room for a large man to move about, somewhere to hide his heavy winter coat, store his ticket box,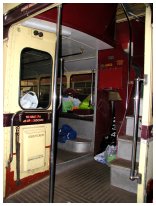 and still have room for a mashing of tea - somewhere. A can could be safely tucked behind the bottom step of the stairs, and the space for pushchairs etc, was reasonably generous. Nothing to stop a chair rolling out, though, should a thoughtless parent park one facing the wrong way. I got sick to death of going back to look in bushes and hedges for escaping push chairs. It wasn't funny, and the baby didn't usually think much to it either!