There are in total fourteen war graves in Sutton-on-Hull churchyard. Six are from the Great War, and eight from the Second World War. All six of the Great War graves are of men not of this local area, though two of them were in what may be described as our 'local' unit, the East Yorkshire Regiment. The remaining four were in other units, the Lancashire Fusiliers, the King's Own Yorkshire Light Infantry, and the Machine Gun Corps. As far as we can tell, sadly, there are no surviving 'full service records' for any of them. So we cannot be sure where any of them actually came from.
Although they are buried here, they are almost certainly remembered in their own home towns or villages on their own memorials, just as Sutton men are remembered on ours. Should someone recognise a name, and seeing the regiment and service number then realise it is the same man, we'd be grateful if they could let us know. Otherwise, it's a case of wait and see if, one day, any of their family contact us, from which we may glean more information.
The eight men buried here from the Second World War are also mainly from away, one of them from a long, long way away. One is again from the East Yorkshire Regiment, and one each from the Royal Engineers and Royal Artillery. Two are from the Royal Army Service Corps, and three from what was then the newest service of all, the Royal Air Force. Two of those, we think, were based at the local air station, RAF Sutton on Hull, which was in fact the base of a barrage balloon squadron for the provision and maintenance of the barrage balloons that protected Hull from low level air attack. It is not widely known that several RAF men were killed during Hull's blitz when manning barrage balloon sites ashore around the city, or on the barges moored in the Humber.
It's even more difficult to find details on seven of these men because their Second War service records are not yet generally available to the public, only to their immediate families. But we know a good bit about the eighth, paradoxically because he was from the furthest away. He was an Australian airman, a pilot killed in the Battle of Britain, who lies in our churchyard only because he married a local girl when he was stationed in Cornwall. He died in a head-on collision between his Spitfire and a Dornier, over Surrey, and because his next of kin was now his wife of only six weeks, and she came from Sutton, his body was brought back here for burial. Otherwise, he would have been buried in Surrey, near to where he fell. We have a lot more details about him on this site,
HERE.
It is hoped that we will one day have just as much information on each of the other thirteen men as we already have on 'our' Australian airman. We also hope that folk who visit our newly refurbished memorial will also take the time to pop into the churchyard, just at the back of the memorial, and remember our 'other fourteen' servicemen, and perhaps leave a flower. I'm also hopeful that one day, perhaps the city council, or perhaps the Commonwealth War Graves Commission, may fix a discreet notice on the railings of our war memorial to inform visitors that there are indeed another fourteen war graves inside the churchyard, literally a short step away just around the back of the memorial itself.
I recently saw just such a notice, on a properly painted wooden board, affixed to the gates of a local cemetery in Harrogate, and thought this would be a good idea for us to adopt too. --
(pass your mouse over the image below)
-- Yes, I went inside, and visited each of their half dozen graves, men I didn't know and had never heard of, but to who I equally owe the same debt of gratitude as to any in my own home town. It was only a few minutes, and surely worth that of my time to remember what they gave, and what I owe. Just a few minutes ain't much, is it.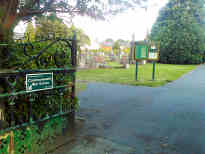 a simple notice affixed to the cemetery gates in Harrogate
A page of photos of all the war graves in our churchyard,
and further web links, can be seen
HERE